Apple Hires Ex-Microsoft Exec to Revamp Smart Home Business
CNBC reports that Apple has hired ex-Microsoft exec and former CEO of a smart lock company to revamp Apple's home initiatives.
Hiring Jadallah is the latest signal that Apple plans to get serious about its own efforts in the home. Recently, the company acquired a start-up called Pullstring, a start-up that specializes in voice-enabled toys. That purchase could help the smartphone maker become the center of a connected living room.
Apple has been making movement into the home space for years, with the introduction of HomeKit as well as the HomePod which is powered by Siri. ‌HomePod‌, however, has lagged behind its competitors despite making steady improvements. Apple's latest hire as well as recent acquisition of a voice technology company seems to indicate that they are refocusing their efforts.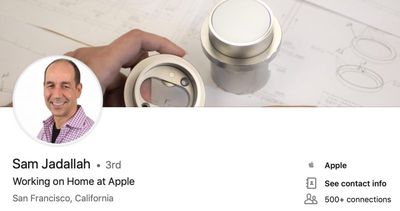 Sam Jadallah's Linkedin page
Jadallah was most recently CEO of failed smart lock company Otto. Otto was
described
as a "luxury smart lock":
With Bluetooth and Wi-Fi radios packed inside the surprisingly compact design, Otto promises to let you or anyone you choose inside with just a touch whenever it senses an authorized phone within range.
That company ultimately failed, but it appears that Jadallah will be applying that knowledge forward at Apple.