MacRumors Readers Hoping for USB-C Instead of Lightning in 2019 iPhones
This morning, we asked our readers on Twitter if they'd prefer to see USB-C ports or Lightning ports in the 2019 iPhone lineup, and the results so far are clear -- MacRumors readers are ready to transition to USB-C.
With more than 15,000 responses across both platforms at the time this article was written, 74% of Twitter users have chosen USB-C over Lightning, as have 71% of Facebook users.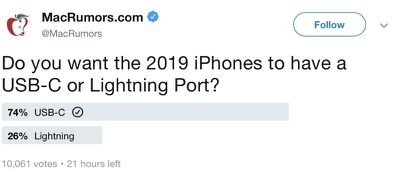 There have been some rumors suggesting Apple is at least considering transitioning to USB-C in the 2019 ‌iPhone‌ lineup, with USB-C prototypes supposedly floating around, but the most recent information from Japanese site Mac Otakara suggests Apple will continue to use Lightning for the 2019 ‌iPhone‌ lineup.
Given the mixed rumors, it's looking like we may not be seeing a shift to USB-C in 2019, but it's still possible, and the rumors are encouraging because it means we may see a transition away from Lightning in the near future. iPhones in 2020 or 2021 could feature USB-C, even if the 2019 iPhones don't.
Many current ‌iPhone‌ users may be reluctant to shift from Lightning ports because they've spent years collecting Lightning-based accessories, but there are some benefits to be aware of. With USB-C, iPhones would charge faster than with the current 5W ‌iPhone‌ adapter and Lightning cable setup, and cables would be interchangeable with cables for the MacBook, MacBook Pro, MacBook Air, and iPad lineup.
With USB-C support for the ‌iPhone‌, a single cable could be used to charge all of the above listed devices, and existing power adapters for these devices would fast charge the ‌iPhone‌, providing at least 50% power in 30 minutes and 80% power within an hour.
Do you want the 2019 iPhones to have a USB-C or Lightning Port? — MacRumors.com (@MacRumors) February 11, 2019
MacRumors
readers on social networks have weighed in, but we also want to hear from those who are visiting the site. Our Twitter and Facebook polls are open for the rest of the day, so go vote! USB-C or Lightning?
Also, if you don't already, make sure to follow us on Twitter and Facebook, where we share news stories, polls, videos, tips and tricks, and other interesting Apple-related information.