Apple Once Again the Most Valuable Public Company in the World
Apple has once again reclaimed the title of most valuable publicly traded company marking the first time the Cupertino company has held that title since December.
As noted by CNBC, Apple surpassed Microsoft and Amazon this afternoon with a closing price of $174.24, for a market capitalization of $821.59 billion.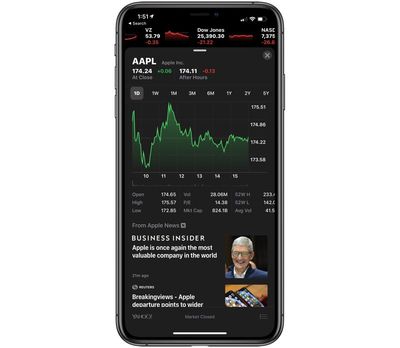 That beats out Microsoft's market value of $813.48 billion and Amazon's market value of $805.70 billion. Earlier this week, Apple also briefly surpassed the other two companies, and the top title has been shifting back and forth for months now.
Apple saw a significant drop in market value in January after lowering its revenue guidance for the first fiscal quarter of 2019 to $84 billion, down from $89 to $93 billion.
Apple's stock has recovered somewhat since its earnings release on January 29 where it reported revenue of $84.31 billion and net quarterly profit of $19.965 billion, or $4.18 per diluted share.
It was Apple's second best quarter ever in terms of revenue and profit, despite the fact that it ultimately ended up being lower than expected due to flagging iPhone sales.