Angela Ahrendts Departing Apple in April, Deirdre O'Brien to Oversee Retail and People
Apple's retail chief, Angela Ahrendts is set to leave Apple in April after spending five years at the company, Apple announced today.
Deirdre O'Brien, Apple's current "Vice President of People," is set to take Ahrendts' place. O'Brien will be taking on new responsibilities for Apple's retail and online stores in her expanded role as Senior Vice President of Retail and People, reporting directly to Apple CEO Tim Cook.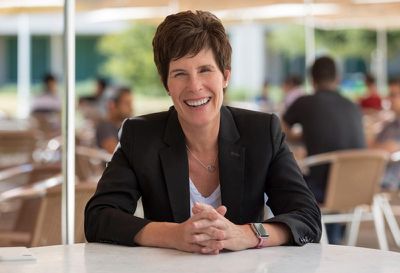 That's not quite the same role that Ahrendts currently holds as Apple's Senior Vice President of Retail. O'Brien will focus on the connection between the customer and the people, and the processes that serve them.
In her new role as retail leader, she will also lead the People team and will oversee all People-related functions, including talent development and Apple University, recruiting, employee relations and experience, business partnership, benefits, compensation, and inclusion and diversity.
"At Apple, we believe our soul is our people, and Deirdre understands the qualities and strengths of our team better than anyone," said Tim Cook, Apple's CEO. "For more than three decades, she has helped keep Apple focused on serving customers and enriching lives. She's an exceptional leader and she's been a vital partner to our retail teams around the world since the very beginning. I am thrilled to work alongside Deirdre in her new role, and I know our 70,000 retail employees will be, too."

In a statement, O'Brien said that she is looking forward to working with Apple's retail teams moving forward.
"People come to Apple to do the best work of their lives, and our retail teams show their passion every day, in every interaction, all around the world," said Deirdre O'Brien, senior vice president of Retail + People. "It is the opportunity of a lifetime to work with, and learn from, such a talented, diverse and imaginative team. I am looking forward to this journey, and to continuing the important work of the People team in supporting all of Apple's amazing employees."
According to Apple, Ahrendts is leaving the company for "new personal and professional pursuits." She first joined Apple in 2014 and has headed up Apple's retail initiatives since then, overseeing the launch of redesigned Apple Stores and customer experiences that have been rolling out across the world over the course of the last few years.
Ahrendts was formerly the Chief Executive Officer of well-known fashion company Burberry, and prior to that role, she held positions at Liz Claiborne and Donna Karan. Cook said that Ahrendts has been "inspiring and energizing" for Apple's retail teams, and that Apple wishes her the "very best."
Ahrendts said that the five years she spent at Apple were the most "stimulating, challenging, and fulfilling" of her career.
"The last five years have been the most stimulating, challenging and fulfilling of my career. Through the teams' collective efforts, Retail has never been stronger or better positioned to make an even greater contribution for Apple," said Angela Ahrendts, senior vice president of Retail. "I feel there is no better time to pass the baton to Deirdre, one of Apple's strongest executives. I look forward to watching how this amazing team, under her leadership, will continue to change the world one person and one community at a time."

As O'Brien takes over for Ahrendts, Apple has more than 35 online stores around the world and 506 retail locations across five continents. Apple recently rolled out an expanded series of "Today at Apple" workshops and classes, another initiative begun under Ahrendts.
Update: Here is Cook's internal memo about the announcement, obtained by Business Insider's Kif Leswing:
Team,

I'm writing to let you know about an important leadership change. Today we're announcing the promotion of one of Apple's most passionate and experienced advocates for our customers and employees — and the departure of a much-loved and accomplished leader who has played a transformative role in shaping Apple's retail experiences.

After five years leading Apple's retail and online stores, Angela Ahrendts is planning to leave Apple in April for new personal and professional pursuits. Angela has inspired and energized our retail teams with the vision of stores as a place where the best of Apple comes together to serve customers and communities. During her tenure, the in-store experience has been redefined with programs like Today at Apple, and our relationship with customers is stronger than ever.

This transition gives us an opportunity to reinforce and carry forward the values that make our retail and online stores the best in the world — and our mission to enrich the lives of others. As I've said many times, Apple's greatest asset is its people. And with that in mind, the best choice to lead our team became clear very quickly.

I am thrilled to announce that Deirdre O'Brien will be taking responsibility for our retail teams in a new role as senior vice president of Retail + People. Deirdre brings insight and experience gained over 30 years at Apple — decades spent focusing on the connection between customers and the people and processes that serve them. Working collaboratively across Apple, Deirdre and her teams empower people to lead with purpose and humanity.

Deirdre was part of the team that planned and launched Apple's very first online and retail stores. She has been a part of Retail's exciting expansion and every product launch since. She knows the value of the deep human connections that retail experiences make possible — and she knows this is where Apple shows its heart and soul.

In her capacity as vice president of People, Deirdre and her team have brought elevated focus to how Apple inspires, connects, develops and cares for its employees — essential efforts that she will continue companywide through the People team in her new and expanded role.

As we look forward, finding new ways to elevate our in-store and online experiences, forging deeper relationships with the customers who love our products, I believe that our team, at every level, is the best in the business. I am grateful to Angela for all she's done for Apple, and I'm looking forward to what Deirdre will bring to her new role.

To everyone in Retail, and our employees worldwide, thanks for all you do to help dreamers become doers, to expand human potential and to do the best work of our lives.

Tim