Apple Introduces New Giraffe, Shark, Owl and Boar Animoji in iOS 12.2 Beta
In the latest iOS 12.2 beta, Apple has introduced four new Animoji characters that can be used in the Messages and FaceTime apps. The new Animoji include a giraffe, a shark, an owl, and a boar.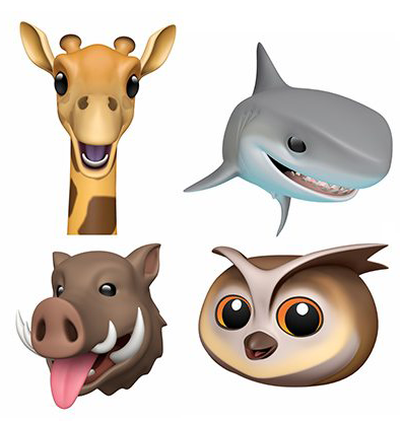 Animoji are designed to work on devices with a TrueDepth camera system, which now includes modern iPhone and iPad Pro models. Animoji are animated, 3D emoji characters that you control with your face.
When you use an Animoji, the TrueDepth camera nalyzes more than 50 muscle movements in different areas of the face, detecting movement of the eyebrows, cheeks, chin, eyes, jaw, lips, eyes, tongue, and mouth.

All of your facial movements are translated to the Animoji characters, making them reflect your expression and emotion. Animoji can be shared with friends in the Messages app as stickers and as videos, they can be used with the Effects camera in Messages, and you can use them instead of your own face when FaceTiming someone.
There are a total of 24 Animoji now, including the four new ones. Existing Animoji include monkey, robot, cat, dog, alien, fox, poop, pig, panda, bunny, rooster, unicorn, lion, dragon, skull, bear, tiger, koala, t-rex, and ghost.
When Animoji launched in 2017 alongside the ‌iPhone‌ X, there were 12, with Apple steadily adding new fun characters to play with.