Tim Cook Urges U.S. Congress to Pass Comprehensive Federal Privacy Legislation in Op-Ed
U.S. Senator Marco Rubio (R-FL) on Wednesday introduced the American Data Dissemination Act, legislation that would require the U.S. Federal Trade Commission to submit detailed recommendations for privacy requirements that Congress can impose on tech companies like Apple, Facebook, Google, and Twitter.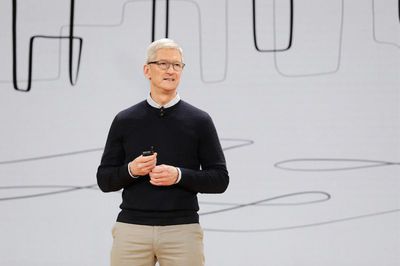 The bill is intended to address the lack of a single, comprehensive federal law regulating the collection and use of personal data in the United States with clear protections that consumers can understand and the FTC can enforce.
Well timed with the news, Apple CEO Tim Cook has penned an op-ed for Time Magazine calling on Congress to pass comprehensive federal privacy legislation in the United States. He also challenges companies to strip identifying information from customer data or avoid collecting it in the first place.
In the op-ed, Cook said he believes "data broker" companies that collect, package, and sell personal information should be required to register with the FTC and provide critical transparency information to the agency, and that consumers should have the power to easily access and delete that data if desired.
"Right now, all of these secondary markets for your information exist in a shadow economy that's largely ­unchecked," wrote Cook.
In 2014, the FTC published a report stating that "data brokers collect and store a vast amount of data on almost every U.S. household." Of the nine data brokers it examined, the FTC said one had a database with "information on 1.4 billion consumer transactions and over 700 billion aggregated data elements."
Cook's full op-ed was provided to MacRumors in advance:
In 2019, it's time to stand up for the right to privacy—yours, mine, all of ours. Consumers shouldn't have to tolerate another year of companies irresponsibly amassing huge user profiles, data breaches that seem out of control and the vanishing ability to control our own digital lives.

This problem is solvable—it isn't too big, too challenging or too late. Innovation, breakthrough ideas and great features can go hand in hand with user privacy—and they must. Realizing technology's potential ­depends on it.

That's why I and others are calling on the U.S. Congress to pass comprehensive federal privacy ­legislation—a landmark package of reforms that protect and empower the consumer. Last year, before a global body of privacy regulators, I laid out four principles that I believe should guide legislation:

First, the right to have personal data minimized. Companies should challenge themselves to strip identifying information from customer data or avoid collecting it in the first place. Second, the right to ­knowledge—to know what data is being collected and why. Third, the right to access. Companies should make it easy for you to access, correct and delete your personal data. And fourth, the right to data security, without which trust is impossible.

But laws alone aren't enough to ensure that individuals can make use of their privacy rights. We also need to give people tools that they can use to take action. To that end, here's an idea that could make a real difference.

One of the biggest challenges in protecting privacy is that many of the violations are invisible. For example, you might have bought a product from an online ­retailer—­something most of us have done. But what the retailer doesn't tell you is that it then turned around and sold or transferred information about your purchase to a "data broker"—a company that exists purely to collect your information, package it, and sell it to yet another buyer.

The trail disappears before you even know there is a trail. Right now, all of these secondary markets for your information exist in a shadow economy that's largely ­unchecked—out of sight of consumers, regulators, and lawmakers.

Let's be clear: you never signed up for that. We think every user should have the chance to say, "Wait a minute. That's my information that you're selling, and I didn't consent."

Meaningful, comprehensive federal privacy legislation should not only aim to put consumers in control of their data, it should also shine a light on actors trafficking in your data behind the scenes. Some state laws are looking to accomplish just that, but right now there is no federal standard protecting Americans from these practices. That's why we believe the Federal Trade Commission should establish a data-­broker clearinghouse, requiring all data brokers to register, enabling consumers to track the transactions that have bundled and sold their data from place to place, and giving users the power to delete their data on demand, freely, easily and online, once and for all.

As this debate kicks off, there will be plenty of proposals and competing interests for policymakers to consider. We cannot lose sight of the most important constituency: individuals trying to win back their right to privacy. Technology has the potential to keep changing the world for the better, but it will never achieve that potential without the full faith and confidence of the people who use it.
Cook's op-ed is consistent with Apple's belief that privacy is a "fundamental human right." Apple aims to "minimize its collection of personal data," according to its privacy website, and stresses that the "the customer is not our product."
Apple emphasized its commitment to privacy with a billboard near CES 2019 that read "what happens on your iPhone, stays on your ‌iPhone‌."
Note: Due to the political nature of the discussion regarding this topic, the discussion thread is located in our Politics, Religion, Social Issues forum. All forum members and site visitors are welcome to read and follow the thread, but posting is limited to forum members with at least 100 posts.