Survey Finds 78% of Patients Satisfied With Apple Health Records at UC San Diego Hospital
UC San Diego Health recently sent an online survey to its first 425 patients who activated Apple Health Records in 2018, and among 132 respondents, 78 percent indicated that they were "satisfied with using the feature."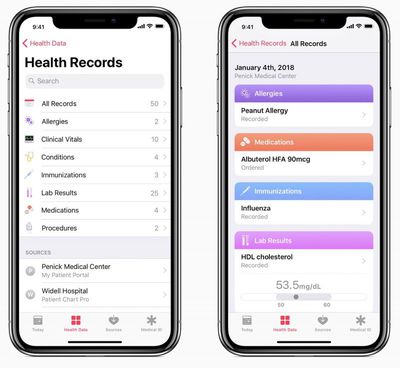 96 percent of respondents said they could "easily connect their mobile devices to the platform," and 90 percent said the "smartphone solution improved their understanding of their own health, facilitated conversations with their clinicians, or improved sharing of personal health information with friends and family."
The survey results were published in the Journal of the American Medical Association this week by doctors at UC San Diego Health, one of the first hospitals and clinics to make Apple Health Records available to its patients.
Apple introduced the Health Records feature in iOS 11.3 in March 2018, allowing patients to view their medical records from multiple participating hospitals and clinics directly in the Health app on the iPhone, including allergies, vital signs, conditions, immunizations, lab results, medications, and procedures.
The journal submission cautions that, as with many new products and solutions, such enthusiasm is common from early adopters. The platform will need to "prove that it is useful, sustainable, scalable, and actually improves health outcomes," according to Christian Dameff, MD, UC San Diego Health.
As noted by CNBC's Christina Farr, hospitals have historically faced "major challenges" with getting patients to use electronic medical records because the technology "tends to be poorly designed and hard to use."
UC San Diego Health doctors believe three key developments may contribute to the success of Apple Health Records compared to earlier efforts like Google Health in 2008, including the ubiquity of mobile technology, the maturation of health data communications standards, and the widespread use of App Stores.
More than 100 institutions now support Apple Health Records in the United States, including Cedars-Sinai in Los Angeles and Johns Hopkins in Baltimore, and Apple reportedly hopes to add the U.S. Department of Veterans Affairs as a partner as well, a move that would provide veterans with access to the feature.
Health records are stored in the Health Data tab of the Health app on iOS 11.3 and later.