Apple Health Records
By MacRumors Staff
Apple Health Records Articles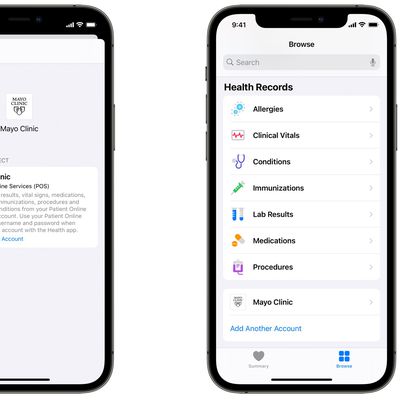 The Mayo Clinic today debuted support for the Apple Health records feature available on the iPhone, allowing Mayo Clinic patients to add their medical records to the Health app. Health Records is a feature that's designed to allow patients to view and aggregate all of their health data in one easy-to-access spot on the ‌iPhone‌. More than 700 institutions and 12,000 care locations now offer...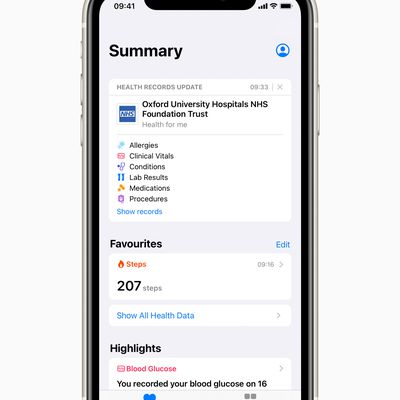 Apple has today announced that access to Health Records on the iPhone is now available in the UK and Canada, providing a fuller, more secure picture of patient health. The existing Health app on the ‌iPhone‌ can now display full health records, enabling users to securely view and store their medical records from healthcare institutions in the UK and Canada. Oxford University Hospitals in...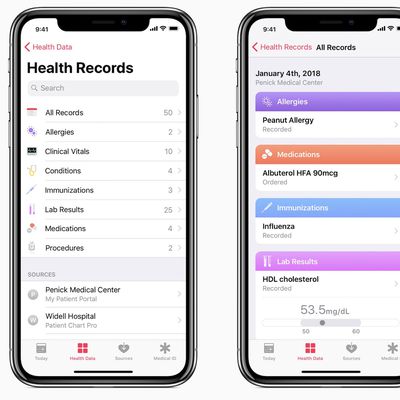 Health records firm Epic Systems and some 60 client hospitals are objecting to a proposed U.S. government policy that would make it easier for patients to share medical records data with apps, an initiative supported by Apple and other tech companies (via CNBC). Proposed by the Department of Health and Human Services (HHS) in 2019, the modified data sharing rules would allow patients to...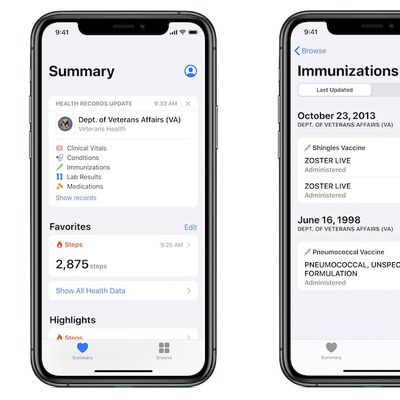 Apple today announced that its partnership with the U.S. Department of Veterans Affairs (VA) to roll out access to the Health Records feature for iPhone has launched, with veterans who receive care through the VA now able to access their information right in the Health app on iOS. "Helping veterans gain a better understanding of their health is our chance to show our gratitude for their...

Apple today announced that its Health Records feature on iPhone will be available soon to military veterans across the United States. In partnership with the U.S. Department of Veterans Affairs, American veterans receiving care through the Veterans Health Administration will be able to view their aggregated health records directly in the Health app on their ‌iPhone‌. Apple CEO Tim Cook:We ...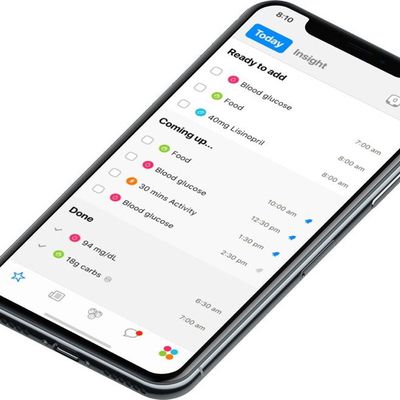 One Drop, a company known for its iPhone-connected One Drop Blood Glucose Monitor, today announced the launch of a new Personal Diabetes Assistant and integration with the Health Records feature on iPhone. The One Drop Personal Diabetes Assistant is designed to encourage One Drop users to better adhere to medication times, eating plans, and blood glucose monitoring. Users can get regular...

UC San Diego Health recently sent an online survey to its first 425 patients who activated Apple Health Records in 2018, and among 132 respondents, 78 percent indicated that they were "satisfied with using the feature." 96 percent of respondents said they could "easily connect their mobile devices to the platform," and 90 percent said the "smartphone solution improved their understanding of...