Apple today revealed an update coming to the Health app in the iOS 11.3 beta, which will bring a "Health Records" section to the app and allow users to see their medical records from various providers. The updated Health Records area will combine hospitals, clinics, and other information from Health "to make it easy for consumers to see their available medical data from multiple providers whenever they choose."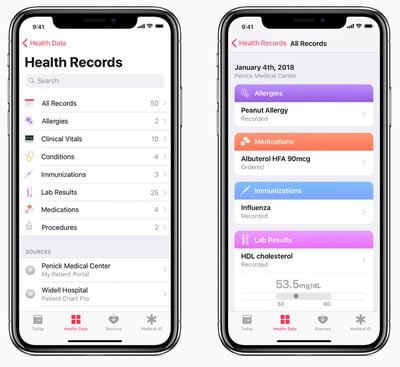 Some of the first provider partners include John Hopkins Medicine, Cedars-Sinai, Penn Medicine, and various other hospitals and clinics. Apple explained that the update is intended to serve as a consumer-friendly solution to easily access medical records, which were previously housed across multiple websites and online repositories. The company said it created Health Records based on Fast Healthcare Interoperability Resources (FHIR), which provides the standard for transferring electronic medical records.

"Our goal is to help consumers live a better day. We've worked closely with the health community to create an experience everyone has wanted for years — to view medical records easily and securely right on your iPhone," said Jeff Williams, Apple's COO. "By empowering customers to see their overall health, we hope to help consumers better understand their health and help them lead healthier lives."
Health Records will provide an overall view of a user's allergies, conditions, immunizations, lab results, medications, procedures, and vitals. The Health app will also now notify them when their Health Records data is updated, which is encrypted and protected by the iPhone passcode as well.
Apple said that more medical facilities will be connected to Health Records in the coming months, further expanding the amount of users who have access to the feature. The full list of medical institutions that are supported on the iOS 11.3 beta include:

- Johns Hopkins Medicine - Baltimore, Maryland
- Cedars-Sinai - Los Angeles, California
- Penn Medicine - Philadelphia, Pennsylvania
- Geisinger Health System - Danville, Pennsylvania
- UC San Diego Health - San Diego, California
- UNC Health Care - Chapel Hill, North Carolina
- Rush University Medical Center - Chicago, Illinois
- Dignity Health - Arizona, California and Nevada
- Ochsner Health System - Jefferson Parish, Louisiana
- MedStar Health - Washington, D.C., Maryland and Virginia
- OhioHealth - Columbus, Ohio
- Cerner Healthe Clinic - Kansas City, Missouri
Apple today also previewed iOS 11.3, stating that iPhone users will be able to view battery health and disable Apple's power management when the update comes out this spring.