Sphero, the company behind the now-discountinued Star Wars droid toys, has launched a device called "Specdrums," a wearable ring that plays different music based on the color you tap it against. The Colorado-based startup Specdrums had previously debuted the music-enabled rings a few years ago, but the rings will now be sold under the Sphero brand following an acquisition by Sphero last summer.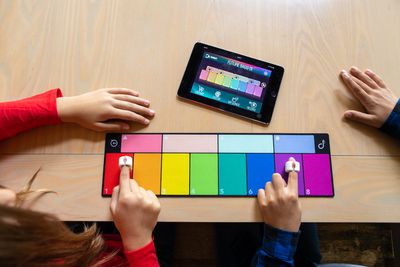 The rings work by connecting to an iOS or Android app, and when the user taps Specdrums against a certain color, the app will play a musical note. The company says that this will empower kids of all ages and skill levels to play music on nearly any surface in the world around them.

"Sphero recognizes Specdrums as an opportunity to engage kids at the intersection of arts, math, science and technology, building a parallel framework between coding and music composition," said Paul Berberian, CEO, Sphero.

"By seeing the world around them as a canvas, kids are able to use Specdrums to create their own songs using coding, which is really exciting for them, their parents and their teachers. Meanwhile, the creative pattern-making of loops and sounds strengthens their math and problem-solving skills."
The Specdrums Mix app includes customizable sounds so that users can explore musical instruments like drums, a keyboard, and over 100 other instruments. The rings themselves are made from silicon and include motion and light sensors to turn surrounding colors into sound.
Specdrums also come with a multi-color playpad to tap the rings on, but the company encourages users to simply use anything in their vicinity to get started with Specdrums. Specdrums will cost $64.99 for one ring and $99.99 for two rings, and is available to purchase starting today. The first devices will begin shipping the week of January 15, and select retail stores will begin selling the rings in the spring.