Apple Begins Selling New Beddit 3.5 Sleep Monitor
Apple today began selling a new Beddit sleep monitor on its online store after receiving FCC clearance for the product earlier this week.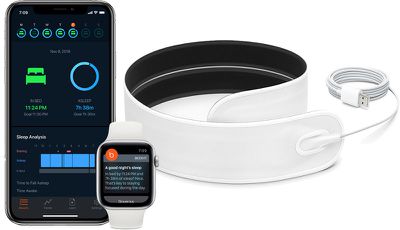 The new version has a model number of 3.5 and retails for the same $149.95 price as the previous model 3.0. The new version looks similar to the previous one, but it is ever so slightly smaller and lighter. It remains 2mm thin.
This represents Apple's first update to the sleep monitor since it acquired Beddit in May 2017. It remains an ultra-thin 2mm flexible sensor strip that is designed to be placed under the sheet on top of the mattress and automatically begins tracking sleep-related data when you lie down for sleep.
The data collected includes sleep time and efficiency, heart rate, respiration, temperature, movement, snoring, room temperature, and room humidity. The data can be viewed in the new Beddit 3.5 app or Health app on an iPhone or iPad. The old Beddit app is now designated for model 3.0.
The new version is also listed on Beddit's website. It is compatible with the iPhone 5s or later with iOS 12 or later and all Apple Watch models with watchOS 4.3 or later.
(Thanks, Jordan!)