Apple Retail Stores Around the World Now Featuring Red Logos for World AIDS Day
In honor of World AIDS Day, which takes place on December 1, Apple has started turning the Apple Store logos at many of its retail locations around the world red.
Apple CEO Tim Cook shared some photos of the red logos on Twitter this afternoon.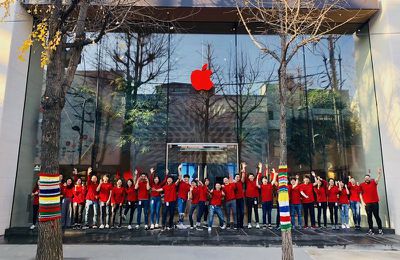 Apple marketing chief Greg Joswiak earlier this week said that Apple plans to turn the logos at 125 stores red, with another 400 stores set to feature red decals over their Apple logos. The red coloring is meant to raise awareness for the global fight against AIDS.
Apple plans to promote World AIDS Day in its retail locations over the course of the next week. From Saturday, December 1 to Friday, December 7, $1 of every Apple Pay purchase made at an Apple Store, through the Apple Store app, or on the Apple website will be donated to (RED), the charity Apple has worked with for years.


(RED) focuses on putting an end to AIDS in Africa through money given to The Global Fund. Yesterday, Apple said it has raised $200 million for (RED) through the exclusive (PRODUCT)RED merchandise that it sells.
When Apple customers purchase a (PRODUCT)RED device or accessory, a portion of the proceeds is donated to (RED).