Insurance company John Hancock and behavior change platform Vitality today released information on a study by RAND Europe of over 400,000 people in the United States, United Kingdom, and South Africa. The study concluded that those who wore an Apple Watch and participated in the Vitality Active Rewards program averaged a 34 percent sustained increase in physical activity, compared to those without an Apple Watch.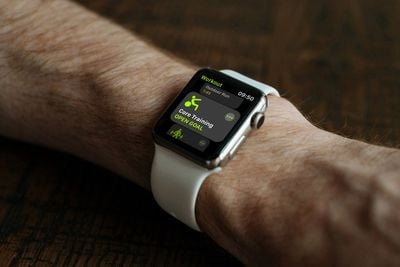 Specifically focused on U.S. users, the study found significant improvements in levels of physical activity, including an increase in the number of active days by almost 31 percent, and an increase of high-intensity activity days by 52 percent. Participants with high levels of inactivity and body mass index improved more than other groups in the study with physical activity boosted by 200 percent in the U.S. for these individuals.
Additionally, John Hancock Life Insurance customers will now be able to get the Apple Watch Series 4 for as low as $25 through regular exercise. The program mirrors previous incentives that encourage insurance customers to engage in physical activity, reaching goals that earn them points to reduce or eliminate their monthly payments for the Apple Watch over a two-year period.
Customers have to pay a $25 initial fee (plus tax) when signing up for John Hancock Vitality PLUS. Afterwards, when they exercise they will earn Vitality Points that discount the total cost of the device. If they earn 500 Vitality Points per month for two years, no additional charges will be required for the Apple Watch Series 4.

"There is natural alignment between consumer health and longevity, and our goals as a life insurer. This type of shared value is good for everybody," added Brooks Tingle, president and CEO of John Hancock Insurance. "The Apple Watch has been an extremely popular and effective component of our program to date, helping our customers not only live healthier lives through better exercise and mindfulness habits – but also improve their financial wellness through the rewards our program offers, including lower premiums and discounts from some of their favorite national retailers."
Apple Watch Series 4 is Apple's latest wearable device, featuring a new design with a slimmer body, 30 percent larger display, and electrical sensors for taking ECG readings. The ECG feature is not yet live yet, but we now know that it will be enabled on Apple Watch Series 4 in the publicly released version of watchOS 5.1.2.