CarPlay will be a standard feature in the all-new 2019 Mazda3, excluding the base model, according to a company spokesperson. The vehicle is making its worldwide debut at the Los Angeles Auto Show this week and will be rolled out to global markets over the coming months, starting with North America in early 2019.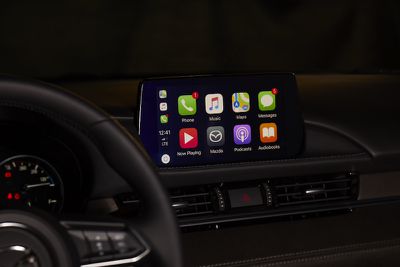 CarPlay in a Mazda vehicle
The 2019 model will be the first Mazda3 with CarPlay, accessible through the Mazda Connect infotainment system. CarPlay is also preinstalled in the 2018 and newer Mazda6, 2019 Mazda CX-5, and 2019 Mazda CX-9, with a
$199 retrofit option available for select 2014 and newer Mazda vehicles
in the United States.
CarPlay will also be available as a standard feature in the 2019 Nissan Rogue Sport and 2020 Toyota Corolla Hybrid, equipped with seven- and eight-inch touchscreens respectively. The new Rogue Sport is available now at Nissan dealerships in the United States, while the new Corolla Hybrid goes on sale in spring 2019.
Toyota and Mazda were among the last major automakers to offer factory-installed CarPlay, but each has expanded its lineup of vehicles integrated with Apple's software, which provides convenient dashboard access to apps such as Phone, Messages, Apple Maps, Google Maps, Waze, Apple Music, and Spotify.
Toyota now offers CarPlay in the 2019 Avalon, 2019 Corolla Hatchback, 2019 RAV4, 2019 Sienna, and 2019 CH-R in the United States.