CarPlay Now Available in Select 2014 and Newer Mazda Vehicles as $199 Dealer-Installed Upgrade
Mazda today announced that CarPlay and Android Auto are now available as part of a dealer-installed upgrade in select 2014 model year and newer Mazda vehicles equipped with the Mazda Connect infotainment system in the United States.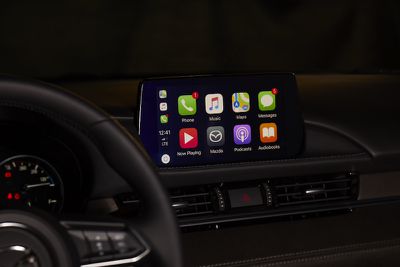 The dealer-installed upgrade has a suggested price of $199 plus the cost of labor and includes both hardware and software components. Eligible vehicles will be equipped with a faster-charging 2.1-amp USB port, in addition to the latest version of Mazda Connect with CarPlay and Android Auto integration.
Eligible customers can schedule an appointment with a Mazda dealership to have the approximately two-hour upgrade service completed.
CarPlay and Android Auto will also be preinstalled in 2018 Mazda6 vehicles manufactured in November 2018 or later, excluding the Sport model, in the United States. Those who purchased a 2018 Mazda6 earlier in the year can opt for the dealer-installed upgrade option with the $199 fee waived.
CarPlay and Android Auto are also preinstalled in the 2019 Mazda CX-9 and the 2019 Mazda CX-5 in the United States.
CarPlay is Apple's in-car software that enables iPhone users to access a range of apps from a vehicle's dashboard display, such as Messages, Apple Maps, Apple Music, Podcasts, Overcast, Spotify, SiriusXM Radio, Pandora, WhatsApp, Downcast, Slacker Radio, Stitcher, and as of iOS 12, Google Maps and Waze.
Mazda previously announced that CarPlay would be available as a dealer-installed upgrade for a suggested price of $443 including labor in Canada by November, but it's unclear if the option is available there yet. It's also available in the UK for £350.