Apple Reportedly Plans to Cut Price of iPhone XR in Japan Due to Poor Sales and Restart iPhone X Production
Apple plans to discount the price of iPhone XR models in Japan by offering subsidies to Japanese carriers, according to a new report out this morning.
The Wall Street Journal said the price decreases on the $750 iPhone models could come as early as next week, citing sources familiar with Apple's sales strategy in the region.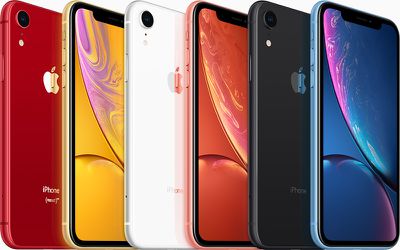 "A price cut within a month off the release is rare not just for Apple but for smartphone makers in general," said a senior official at a wireless operator, who monitors sales.

Analysts say weaker-than-expected demand for iPhone XR may mirror what happened with the iPhone 5c in 2013, where sales picked up the following year. Apple's higher-priced XS and XS Max models, released a month earlier, appeal more to tech's early adopters who typically fuel initial sales of new iPhones.
The decision comes in the wake of a WSJ report earlier this week that claimed Apple has slashed production orders for its latest iPhone XS, iPhone XS Max, and iPhone XR models due to lower-than-expected demand.
Part of the problem for Apple is that the iPhone 8 is apparently still hugely popular in Japan because of its affordability, given that it's cheaper than the XR and was still available when Apple launched the XS and XS Max.
According to WSJ's sources, Apple suppliers have also resumed making the iPhone X, the 2017 model that Apple no longer sells at its own stores. If Apple plans to sell the older model in Japan, it wouldn't be the first time the company has produced previously discontinued models for regional markets where it sees sufficient demand for cheaper devices. The strategy also allows Apple to benefit from lower-cost components and depreciated production line machinery.
However, supply chain sources who spoke to WSJ claim the resumption of iPhone X production is partly due to Apple's need to use OLED panels ordered from Samsung – panels that were previously earmarked for use in the iPhone XS and XS Max devices that have since been hit by swingeing production cuts.