On November 21, 2008, Apple released iPhone OS 2.2 to users in Japan, introducing an emoji keyboard and emoji characters for the first time ever on an iPhone. At the time, the latest iPhone to be released was the iPhone 3G, which launched in June 2008 with iPhone OS 2.

The emoji keyboard in 2008 (left) vs 2018 (right), via Jeremy Burge/Emojipedia
Emojipedia
has provided an in-depth look today at the first iPhone emojis, explaining that despite Apple's decision to restrict the emoji keyboard to Japan in iPhone OS 2.2, some apps unlocked the keyboard for users outside of Japan. This was the first time that third-party apps were even available on iPhone, since iPhone OS 2.2 also introduced the App Store.
The launch within iPhone OS 2.2 predated emoji support in the Unicode Standard, which now makes the characters universally interchangeable between devices and operating systems.

Apple's 2008 emoji implementation was based on the set used by Japanese carrier Softbank, and the influence on many of these designs is clear.

Even moreso—much the the chagrin of some—Apple's emoji font has gone on to dominate public expectation of what an emoji should look like.

While Apple does not dictate which emojis are approved by Unicode, it is reasonable to wonder that without Apple's strong color emoji support in these earlier years, whether we would see it as the cultural phenomenon it has become today.
Emojis then gained traction in iOS 4 and Mac OS X Lion, but these were still not widely supported across regions. Not until iOS 5 in 2011 did Apple introduce the emoji keyboard setting that allowed anyone around the world to access the characters by tapping the Globe icon on the iOS keyboard. In 2012, Apple introduced 376 new emojis with iOS 6 and switched to Unicode-compatible code points for the emojis.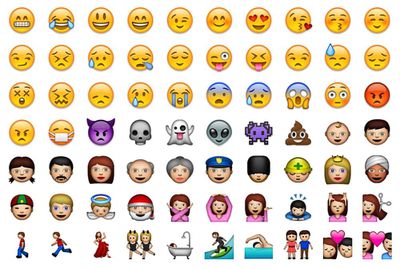 iPhone OS 2.2 emojis from 2008
One of the latest updates on the emoji timeline came in 2015, when Apple introduced new emojis for the first time in three years with iOS 8.3. This was the year that Apple also enabled the emoji keyboard to all iOS users by default, whereas before each user had to go into the Settings app, find the keyboard settings, and manually add the emoji keyboard.
In total, the number of emojis has increased from 471 in 2008 to 2,776 in 2018, thanks to the introduction of swappable genders and skin tones. Head over to Emojipedia for more details about the emoji anniversary, and to check out a long list of changes that some of the emojis have had over the years.