Apple has ceded its position to Walmart as the third largest online retailer in the U.S., according to a new report out this week (via TechCrunch).
Research provider eMarketer Retail calculates that Walmart is set to capture 4 percent of all online retail spending in 2018, up from 3.3 percent the previous year, while Apple will claim a 3.9 percent share, up from 3.8 percent in 2017.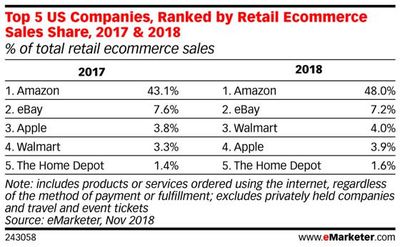 Walmart, which includes Sam's Club and Jet.com, will see its sales total $20.91 billion by the end of the year, thanks to a 39.4 percent increase in e-commerce. In contrast, Apple's online sales will grow by 18 percent this year, a slowdown attributed to declining domestic smartphone sales.

Importantly, Walmart has one of the fastest growing ecommerce businesses. This year, its online sales will grow 39.4%. Wayfair, an online-only retailer, beats it slightly with a 40.1% growth rate. Meanwhile, Apple will grow just over 18% this year—less than last year— as domestic sales for smartphones and other consumer electronic devices begin to slow down. Its ecommerce share will remain virtually unchanged at 3.9% this year.
Both companies still trail first-placed Amazon, which is set to command a whopping 48 percent share of all e-commerce sales, up from 43.1 percent the previous year. Amazon will take in more than $252.10 billion domestically this year, according to eMarketer. eBay meanwhile remains in second place, with a 7.2 percent share of all online retail sales, down from 7.6 percent.