Woozy Face, Bald Person, Face With 3 Hearts and Foot Among Most Discussed New Emoji in iOS 12.1
Bald person emoji, woozy face, smiling face with three hearts, foot, pleading face, and hot face were among the most engaging and highly-discussed emoji in the iOS 12.1 update, according to research conducted by Emojipedia.
The new hairless emoji, bald man and bald woman, was the most popular character, followed closely by woozy face and smiling face with three hearts.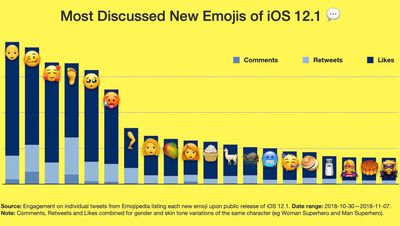 Emojipedia gathered its data by measuring comments, retweets, and likes on various emoji characters on Twitter.
According to the data, the foot emoji saw a high number of retweets, while the smiling face with three hearts garnered a lot of likes and retweets. Of the new smiley emojis in iOS 12.1, only cold face and partying face didn't rank in the top 10.



Emojipedia says that while measuring emoji by engagement doesn't indicate how popular a given emoji will be in real-world use, Twitter statistics like these provide insight into the emojis that people consider interesting, notable, or controversial in some way.
Leg commentary, for example, focused on the weird nature of the emoji rather than interest in using it on a regular basis.
Of food and animal emoji, mango and cupcake were the most discussed food items, while llama and raccoon were the most popular animals. Aside from leg and foot, no other random item emoji made the top 20 list.



Emojipedia has a full ranking of all 70 new emoji introduced in iOS 12.1, along with data on the individual comments, retweets, and likes received by each emoji.
iOS 12.1 with the new emoji characters was released to the public on Tuesday, October 30. It included dozens of new Unicode 11 emoji characters, with our full list available here.
iOS will gain additional new emoji characters at some point in 2019, when Unicode 12 characters are adopted. Unicode 12 is still in development, but new emoji candidates include service dog, deaf people, mixed race couples, diving mask, waffle, Hindu temple, white heart, ice cube, sloth, flamingo, skunk, ballet shoes, falafel, onion, garlic, otter, and more.


Apple in March submitted a series of new accessibility emojis to the Unicode Consortium, which could be included in Unicode 12.


Unicode 12 is likely to be finalized early in 2019, but Apple may not implement it until the release of iOS 13, if past emoji additions are any indication.