Apple Submits New Accessibility Emojis to Unicode Consortium
Apple today submitted a new proposal [PDF] to the Unicode Consortium, suggesting the committee introduce a series of accessibility emojis in future Unicode releases.
As outlined by Emojipedia, Apple has suggested emojis that include a guide dog, a hearing aid, a prosthetic arm and leg, sign language, a person in a wheelchair, and a person with a cane. Apple's full list of proposed emojis can be seen in its proposal document.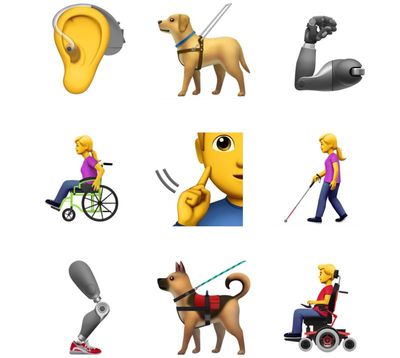 In its proposal, Apple says it is aiming to better represent individuals with disabilities to provide a more inclusive experience for all. Apple also says this is not an exhaustive list of "all possible depictions of disabilities," but is rather designed to be "an initial starting point."
At Apple, we believe that technology should be accessible to everyone and should provide an experience that serves individual needs. Adding emoji emblematic to users' life experiences helps foster a diverse culture that is inclusive of disability. Emoji are a universal language and a powerful tool for communication, as well as a form of self-expression, and can be used not only to represent one's own personal experience, but also to show support for a loved one.

This new set of emoji that we are proposing aims to provide a wider array of options to represent basic categories for people with disabilities. This is not meant to be a comprehensive list of all possible depictions of disabilities, but to provide an initial starting point for greater representation for diversity within the emoji universe.
To create the emoji suggestions, Apple teamed up with the American Council of the Blind, the Cerebral Palsy Foundation, and the National Association of the Deaf. Its initial proposal focused on people in four categories: Blind and Low Vision, Deaf and Hard of Hearing, Physical Motor, and Hidden Disabilities.
Apple says its proposal is a "significant step forward in representing more diverse individuals," and that the company hopes it will "spark a global dialogue around better representation for people with disabilities."
Apple is well-known for its dedicated work on making its products accessible to all users, with a suite of Accessibility features built into all of its iPhones, iPads, Macs, and more. Apple maintains a dedicated Accessibility section on its website where it shares details on available Accessibility features and stories of people who have improved their lives with Apple products.
The Unicode Consortium has already finalized the Emoji 11.0 characters that will be adopted by smartphone companies later this year, but Apple's proposed characters could be added to Emoji 12.0, set to be released in 2019.