GigSky Announces eSIM Support for iPhone XS, XS Max, and XR
GigSky, a company that offers pay-as-you-go cellular data plans in more than 190 countries around the world, today announced that it now supports the eSIM in the iPhone XS, XS Max, and XR.
eSIM-based GigSky data plans are available on Apple's new devices through the latest version of the GigSky World Mobile Data app, which was updated today.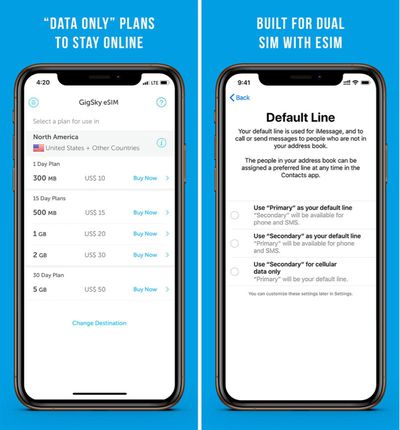 Adding a GigSky data plan when traveling can be done by downloading the app on an iPhone XR, XS Max, or XS running iOS 12.1 or later. GigSky says that built-in data connectivity will activate the eSIM with a cellular data only plan with no need to acquire a GigSky physical SIM card.
GigSky offers data bundles from 300MB to 5GB, which span from one day to 30 days. Pricing in select regions in North America, Europe, Asia Pacific, Africa, Latin America, and the Caribbean starts at $10 for 300MB of data. For other countries not included in these regional plans, pricing and data caps vary.
GigSky is one of the only ways for iPhone XR, XS, and XS Max customers to use the eSIM on the new iPhones at the current time.
Apple implemented eSIM support in the recent iOS 12.1 update, but no U.S. carriers support it at this time. Verizon, AT&T, and T-Mobile are working to implement support later this year.
In other countries, eSIM functionality is available from various carriers, with Apple providing a list of all the carriers around the world that support the eSIM at the current time.