Verizon, AT&T, and T-Mobile Won't Support eSIM Until Later This Year
Apple today released iOS 12.1 with support for the digital eSIM that will allow for dual-SIM functionality on the iPhone XS, XS Max, and XR, but eSIM support isn't going to be immediately available from U.S. carriers.
AT&T, for example, is telling customers that eSIM activations are being delayed until later in the year due to technical issues in part related to Visual Voicemail.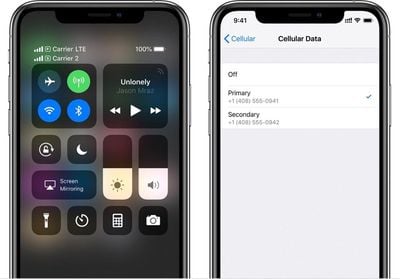 According to one AT&T store manager who spoke to MacRumors, retail outlets have been told that AT&T is not supporting dual-SIM or eSIM at the current time, with stores advised not to sell eSIM cards to customers.
Verizon and T-Mobile will also not be supporting the eSIM at the current time, according to company spokespeople who talked to PCMag. T-Mobile said that eSIM support is in the works and will be available "when its software is ready" with no timeline provided. Verizon, meanwhile, said that eSIMs will be available after some kinks are worked out.
It's also worth noting that Verizon customers should not activate eSIMs from other companies at this time because of performance issues. As outlined by PCMag, when a physical Verizon SIM is relegated into a "secondary" position by an eSIM from another company, the Verizon connection gets downgraded to the 2G CDMA network.
Verizon says it is working with Apple to resolve this issue to allow its customers to use eSIM without a performance hit.

"Wireless customers will be able to activate Verizon service eSIMs as soon as we're confident you'll be able to have the great, high-quality service you expect from us on both your primary and secondary line. If you are a Verizon customer and you activate another carrier's service on your iPhone's eSIM, your Verizon service will be degraded due to the current software configuration.

"Based on our discussions with Apple, we believe these concerns will be resolved quickly and you should be able to add our great Verizon service on your secondary line before the end of the year. Until the secondary line can deliver Verizon's full suite of voice and high-speed data services, we won't activate Verizon service on any eSIM. This includes our own customers' iPhones with dual SIM capabilities as well as iPhones on competitors' networks."
The fourth major carrier in the United States, Sprint, is not on Apple's list of carriers that are going to be implementing eSIM support, but Sprint has said it will add support at some point.
The eSIM, or digital SIM, is a non-physical SIM card slot that pairs with the physical SIM card in the iPhone XS, XS Max, and XR to enable dual-SIM dual-standby, a feature that lets iPhone users have two phone numbers available at once.
With dual-SIM support, iPhone users are supposed to be able to swap between the two phone numbers readily, alleviating the need for a second phone or SIM swapping for work and travel.
While eSIM support will not be available from the major carriers in the United States at this time, it is available in other countries around the world. Apple has a list of all the carriers supporting eSIM functionality on its website.
On Apple's site, eSIM support for AT&T, Verizon, and T-Mobile says "coming later this year," suggesting the three carriers are aiming to launch the feature before the end of 2018.