Qualcomm Accuses Apple of Stealing LTE Modem Trade Secrets and Giving Them to Intel [Updated]
Qualcomm has accused Apple of stealing confidential information and trade secrets, and passing them on to rival chipmaker Intel, according to a court document filed Monday and reported by several media outlets.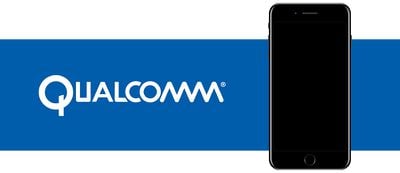 For background, Qualcomm agreed that Apple could have access to its source code and tools for LTE modems, but with limitations. Qualcomm believes that Apple proceeded to share the information with Intel to help improve its LTE modems, allowing Apple to stop using Qualcomm's modems in the latest iPhones.
Axios's Ina Fried shared an excerpt from Qualcomm's complaint:
Although discovery is ongoing, it is clear that Apple's conduct went far beyond simply breaching the contract originally sued on. Indeed, it is now apparent Apple engaged in a years-long campaign of false promises, stealth and subterfuge designed to steal Qualcomm's confidential information and trade secrets for the purpose of improving the performance of lower-quality modem chipsets, with the ultimate goal of eliminating Qualcomm's Apple-based business.
Qualcomm already sued Apple in November 2017 based on suspicions the iPhone maker was using the chipmaker's trade secrets in wrongful ways. Now, Qualcomm is more confident and direct about its accusation.
Don Rosenberg, General Counsel of Qualcomm, in a statement provided to MacRumors:
Once again Apple has flouted its contractual commitments and misappropriated Qualcomm's property rights in an effort to improve its performance and increase its profits.

The code, tools and design details of Qualcomm's modem technology which are the subjects of this litigation represent the genius and labors of our dedicated engineers. We have only the rule of law to protect them.
The lawsuit is scheduled to be heard in April 2019, but Qualcomm's proposed amendment could delay the trial, which is one of over a dozen lawsuits waged between the two companies. Apple initially sued Qualcomm in June 2017 for $1 billion in unpaid royalties, and later for patent infringement.
iFixit's teardown of the iPhone XS and iPhone XS Max uncovered an Intel modem in both devices, a few months after Qualcomm said Apple was unlikely to use its own modems in the latest iPhones. Qualcomm was Apple's exclusive provider of modems until Intel was added as a second supplier for the iPhone 7 lineup.
Update: MacRumors has obtained a copy of Qualcomm's motion, embedded below.