Nvidia on Its Lack of macOS Mojave Drivers for Newer Graphics Cards: 'It's Up to Apple to Approve Them'
Nearly six weeks after the release of macOS Mojave, web drivers for Nvidia graphics cards released in 2014 and later remain unavailable for the latest operating system, resulting in compatibility issues. This includes Nvidia graphics cards based on its Maxwell, Pascal, and Turing architecture.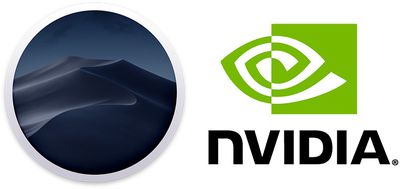 While some customers have expressed frustration towards Nvidia, a spokesperson for the company informed MacRumors that "while we post the drivers, it's up to Apple to approve them," and suggested that we contact Apple. We followed that advice, but Apple has yet to respond to multiple requests for comment.
As a result of the lack of web drivers, external GPUs with an Nvidia graphics card released in 2014 or later have compatibility issues with any Mac running macOS Mojave. Likewise, any Mid 2010 or Mid 2012 Mac Pro upgraded with 2014-or-newer Nvidia graphics is incompatible with the operating system.
Nvidia warns that affected customers who upgrade to macOS Mojave may experience degraded rendering and performance on that version, according to discussions on the Nvidia Developers Forums and MacRumors Forums.
macOS Mojave requires a graphics card that supports Apple's graphics framework Metal, but until updated web drivers are released, many newer Nvidia graphics cards such as the GeForce GTX 1080 are incompatible with the operating system. In the meantime, some users have downgraded back to macOS High Sierra.
Nvidia's Quadro K5000 and GeForce GTX 680 are already Metal-capable and compatible with macOS Mojave, according to an Apple support document.
macOS Mojave is compatible with any MacBook, MacBook Air, MacBook Pro, iMac, iMac Pro, Mac mini, and Mac Pro released in 2012 or later, in addition to Mid 2010-Mid 2012 models of the Mac Pro with a Metal-capable graphics card.
Nvidia graphics cards based on Kepler architecture, which Apple offered in various Macs between 2012 and 2014, are fully compatible with macOS Mojave. Apple has since switched to AMD as its dedicated graphics card provider.
There is some debate as to whether Apple, Nvidia, or both companies are to blame for the lack of web drivers, which are usually released within a few days after a major macOS release. If we learn any new information, we'll share it.