iPhone XR Launch Day Continues Around the World
Following the first deliveries to customers in Australia and New Zealand, iPhone XR launch day continues around the world.
Buongiorno Piazza Liberty! Milan is one of my favorite cities and I am very happy to be here with you today. Around the world, we hope everyone is enjoying the new iPhone XR! pic.twitter.com/hmJb8yrNCM — Tim Cook (@tim_cook) October 26, 2018
Apple CEO Tim Cook visited the company's Piazza Liberty store in Milan today to celebrate the iPhone XR release, posing for pictures with customers and employees, which he later shared on Twitter.
Video of Tim Cook at Apple Piazza Liberty via setteBIT
While the iPhone XR is available for walk-in purchase at Apple Stores, many locations have few customers waiting in line. At Apple Walden Galleria in Buffalo, New York, for example,
VentureBeat
reporter Jeremy Horwitz tweeted that he was the only person lined up just minutes before the store opened.
iPhone XR line status 10 minutes ahead of launch: literally no one (except me). Advance-reserved phones apparently are the way former line-waiters went this year. pic.twitter.com/XFyAbDja4r — Jeremy Horwitz (@horwitz) October 26, 2018
As more customers lean towards online pre-orders, the iconic iPhone launch day lines of the past have dwindled over the years.
Retail employees cheered as the first customers entered Apple's temporary Fifth Avenue store in Manhattan this morning, as recorded by Apple analyst Walt Piecyk, but lines are typically much longer at this flagship location on iPhone launch days. To be fair, Apple is still renovating its iconic glass cube location a few steps away.
There are a few exceptions, as hundreds of customers lined up for iPhone XR launch day at Apple Shibuya in Tokyo, Japan. It was also the grand reopening of the store following several months of renovations, however, so many of those customers may have lined up to check out the new design and score a free shirt.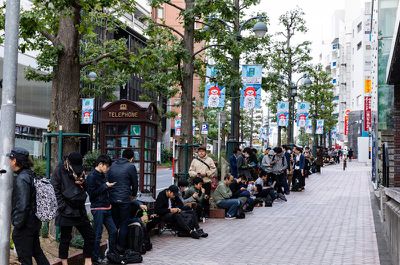 Line at Apple Shibuya on iPhone XR launch day
As usual on an iPhone launch day, most Apple Stores are opening early at 8:00 a.m. local time, with display models now available.
MacRumors traveled to New York City this week to spend some time with the iPhone XR ahead of its release. While there, we spent the day unboxing the device and testing its camera with help from volunteer New Yorkers. We also hosted Q&As on Reddit and through our Twitter account @MacRumors.
Update:
Apple has
shared additional photos
of iPhone XR launch day at Apple Stores around the world.




If you were or will be at an Apple Store for the iPhone XR launch today, be sure to tweet @MacRumors with a photo of your store and device.