Supermicro CEO Joins Cook in Calling for Bloomberg to Retract Supply Chain Hack Story
Last week, Apple CEO Tim Cook called on Bloomberg to retract a highly controversial story suggesting Chinese spies planted microchips in the Supermicro server motherboards used in Apple's data facilities, saying there was no truth to Bloomberg's claims.
Today, Supermicro Charles Liang joined Cook in calling for a retraction. In a statement shared by CNBC, Liang said that Supermicro has not found malicious hardware components in its products, nor has Bloomberg produced an affected Supermicro motherboard. Bloomberg, he says, should "act responsibly" and retract its "unsupported allegations."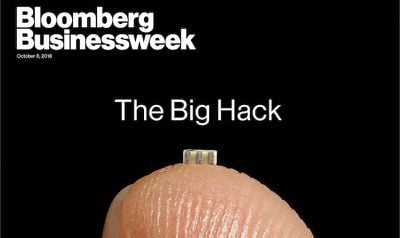 Liang's full statement:
Supermicro is committed to making world-class servers and storage products. Bloomberg's recent story has created unwarranted confusion and concern for our customers, and has caused our customers, and us, harm.

Bloomberg should act responsibly and retract its unsupported allegations that malicious hardware components were implanted on our motherboards during the manufacturing process.

The allegations imply there are a large number of affected motherboards. Bloomberg has not produced a single affected motherboard, we have seen no malicious hardware components in our products, no government agency has contacted us about malicious hardware components, and no customer has reported finding any malicious hardware components, either.
Supermicro, like Apple and other companies involved, has denied all of Bloomberg's claims since the story was first released. Supermicro previously said it was not aware of any investigation nor any companies that had found illicit hardware in their Supermicro products.
Amazon Web Services CEO Andy Jassy also spoke out against Bloomberg today, saying that the story is "wrong about Amazon, too." Like Cook, Jassy says Bloomberg at no point offered proof or listened to what Amazon had to say about the situation.
@tim_cook is right. Bloomberg story is wrong about Amazon, too. They offered no proof, story kept changing, and showed no interest in our answers unless we could validate their theories. Reporters got played or took liberties. Bloomberg should retract. https://t.co/RZzuUt9fBM — Andy Jassy (@ajassy) October 22, 2018
Cook last week said that Apple "turned the company upside down" and dug "very deep" but could find absolutely no evidence that such an attack took place. "Each time we came back to the same conclusion: This did not happen," said Cook. "There's no truth to this."
Since Bloomberg released its report, Apple has refuted the site's claims in multiple clearly worded statements denying it happened. Bloomberg continues to stand by its original reporting, which, citing 17 sources, said Apple, Amazon, and other tech companies had purchased and installed Supermicro servers that had been tampered with by the Chinese government.
Along with Apple, Amazon, and Supermicro, multiple other sources have cast doubt on the information shared in Bloomberg's story. The UK's Cyber Security Agency, the Department of Homeland Security, former FBI general counsel James Baker, and NSA Senior Advisor Rob Joyce, for example, have all questioned the veracity of Bloomberg's claims and have denied knowledge of such an investigation.
Note: Due to the political nature of the discussion regarding this topic, the discussion thread is located in our Politics, Religion, Social Issues forum. All forum members and site visitors are welcome to read and follow the thread, but posting is limited to forum members with at least 100 posts.