HomePod is Ninth Most Popular Smart Speaker in United States According to Recent Survey
Apple's HomePod is the ninth most popular smart speaker model in the United States, according to an online survey of 1,011 smart speaker users conducted by research firm Strategy Analytics in July and August.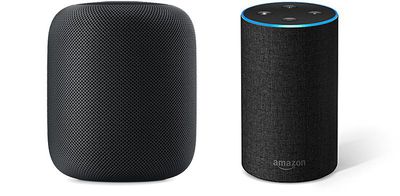 The top eight positions are held by various Amazon Echo and Google Home models in the Strategy Analytics rankings. The standard Amazon Echo tops the list with an estimated 23 percent share of the U.S. installed base of smart speakers, while the HomePod is estimated to have just four percent market share.
Amazon Echo: 23%

Amazon Echo Dot: 21%

Google Home: 8%

Google Home Mini: 7%

Amazon Echo Plus: 5%

Amazon Echo Spot: 4%

Amazon Echo Show: 4%

Amazon Echo Dot Kids Edition: 4%

Apple HomePod: 4%

Google Home Max: 2%
Apple does not disclose HomePod sales in its quarterly earnings results. In August, Strategy Analytics estimated that HomePod shipments totaled 700,000 units in the second quarter of 2018, giving Apple a roughly six percent share of the worldwide smart speaker market at the time.
While the HomePod may have only a single-digit share of the overall market, Strategy Analytics shared data last month indicating that Apple accounts for 70 percent of the small but growing $200-plus smart speaker market, topping competing products such as the Google Home Max and a variety of Sonos speakers.
That data shouldn't come as much of a surprise, as Amazon Echo and Google Home models are regularly priced as low as $49, whereas the HomePod retails for $349. Apple has marketed the HomePod as a premium speaker that also has Siri, as opposed to a personal assistant that also plays music.
It's also worth noting that the HomePod only launched this past February, two to three years after its biggest competitors. Today, the HomePod is available in the United States, United Kingdom, Australia, Canada, France, and Germany, with sales set to begin in Mexico and Spain on Friday.
Back in April, well-connected Apple analyst Ming-Chi Kuo said Apple was "mulling" a "low-cost version" of the HomePod, possibly in the form of a Siri-enabled Beats speaker. The status of those plans is unclear.