HomePod Holds Estimated 70% Share of Growing $200+ Smart Speaker Market
While the HomePod did not rank among the top five smart speakers in worldwide shipments last quarter, it is dominating the premium end of the market, according to research firm Strategy Analytics.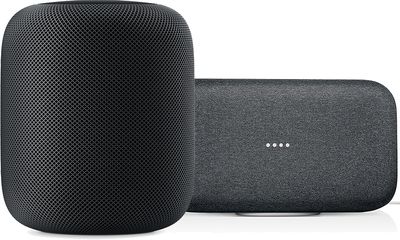 Strategy Analytics claims the HomePod accounts for 70 percent of the small but growing $200-plus smart speaker market, topping competing products such as the Google Home Max and a variety of Sonos speakers.
Among smart speakers of any price, the HomePod accounted for just six percent of the market, as Strategy Analytics estimated last month. If accurate, the data shouldn't come as much of a surprise, as the top five best-selling smart speakers are all regularly priced between $49 and $129 in the United States.
By comparison, the HomePod is priced at $349 in the United States, although rumors have suggested Apple has considered releasing a lower-priced version, possibly in the form of a Siri-enabled Beats speaker.
The world's most-shipped smart speakers last quarter were the Google Home Mini, Amazon Echo Dot, Amazon Echo, Chinese company Alibaba's Tmall Genie, and the Google Home, according to Strategy Analytics. As always, it's important to remember that shipments don't necessarily reflect sales to customers.


David Watkins, Director of Strategy Analytics' Smart Speaker Service:
Unsurprisingly, Amazon and Google models dominated the best-selling list of smart speakers in Q2 2018. The Google Home Mini and Amazon Echo Dot accounted for a combined 38% of global shipments although they contributed just 17% towards the value of the market due to their low price.

Apple on the other hand has focused its smart speaker efforts at the premium end of the market, promoting the HomePod's audio prowess ahead of the device's voice control capabilities.
As noted by Watkins, Apple has marketed the HomePod's premium audio quality more than its Siri capabilities, as justification for its $349 price. Reviews do agree it sounds a lot better than offerings from Google and Amazon.
All in all, the smart speaker market is shaping up to be a lot like other product categories Apple operates in. Apple dominates the premium end of the smartphone market with the iPhone, for example, whereas Samsung and many other Android smartphone makers offer a variety of devices at a wide range of price points.