One of Apple's Lexus SUVs outfitted with autonomous driving equipment was involved in a minor car accident on October 15 while being driven in manual mode, and the accident in question does not appear to have been the driver's fault.
According to an incident report filed with the DMV, on Monday, October 15, an Apple test vehicle in manual mode was side swiped while turning left in a dual left turn lane onto Stewart Drive from North Wolfe Road, an area in Sunnyvale, California that's close to the Cupertino company's headquarters.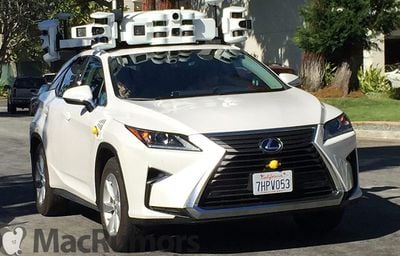 Both of the vehicles suffered minor damage, but no injuries were reported. The full text of the accident description is below:
On October 15th at 10:28 AM, an Apple test vehicle in manual mode was side swiped while preparing to turn left onto Stewart Drive from North Wolfe Road. The Apple test vehicle was traveling at approximately 5 MPH when a Toyota Camry traveling at approximately 15 MPH crossed out of its lane and contacted the Apple test vehicle. Both vehicles sustained minor damage and no injuries were reported. The police were notified that the driver of the Toyota Camry left without exchanging information.
This is the second time that one of Apple's test vehicles was involved in a minor traffic accident. Back in August, one of the Lexus SUVs Apple uses to test its software was hit by a Nissan Leaf while attempting to merge in autonomous mode.
Apple, like other companies in California testing self-driving vehicle technology, is required to disclose all autonomous vehicle collisions to the California DMV.
Apple has been testing its self-driving software since early 2017 using Lexus RX450h SUVs outfitted with a host of sensors and cameras. All of the vehicles are piloted by a pair of drivers at all times even when in autonomous driving mode.
We don't yet know what Apple plans to do with its self-driving software, but rumors this year have suggested the company is once again exploring the possibility of a full Apple-branded vehicle that could come out between 2023 and 2025.
Apple is also developing a self-driving shuttle service called "PAIL," or "Palo Alto to Infinite Loop," which is designed to transport Apple employees between the company's offices across Silicon Valley.