Apple's AirPods Out of Stock in Many European Countries [Update: Back in Stock]
AirPods are sold out and unavailable for purchase in many Apple retail stores across Europe and in Apple's online stores in those countries, as noticed by French site Watch Generation.
It's not clear when the AirPods went out of stock, but the earphones are listed as unavailable in countries that include the UK, Ireland, Germany, France, Czech Republic, Denmark, Spain, Italy, Luxembourg, the Netherlands, Norway, Portugal, Poland, Finland, Sweden, and others.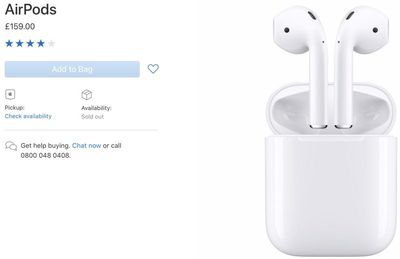 AirPods continue to be available for purchase in other countries in North America, South America, and Asia Pacific, with the shortage primarily limited to Europe.
There's no word on why AirPods are suddenly unavailable in so many European countries, but Watch Generation claims that a retail source said French Apple Stores sold out of a recent shipment and are awaiting the restock of a new version that could perhaps be next-generation AirPods.


Given that the AirPods are unavailable only in Europe, there could be another explanation related to tariffs or currency adjustments, so the shortage is not a clear sign of an imminent refresh.
Apple is rumored to be working on second-generation AirPods with an improved wireless chip that will enable "Hey Siri" functionality, alleviating the need to activate Siri through a double tap on the earphones.
These updated AirPods could also include a wireless charging case that will allow them to work with the AirPower charging mat that continues to be in development, but there is no word on when these rumored AirPods (or the AirPower charging mat) might launch.
Update: AirPods are once again in stock on the Apple online store in many European countries, with retail locations set to have the earphones available for purchase on Friday, October 19.