Google Pixel 3 XL vs. iPhone XS Max: Which Camera Reigns Supreme?
Google's newest flagship smartphones, the Pixel 3 and Pixel 3 XL, are officially launching later this week. With their high-quality cameras, fast processors, and other improvements, the new devices are direct competitors to Apple's newly released iPhone XS models.
We were able to get our hands on the new Pixel 3 and Pixel 3XL ahead of their debut, and in our latest YouTube video, we compared the Google Pixel 3 XL camera to Apple's iPhone XS Max camera to see which one reigns supreme.
Both the Pixel 3 and the Pixel 3 XL are equipped with a single-lens 12-megapixel rear camera system, while the iPhone XS Max uses a dual-lens camera system that features a 12-megapixel wide-angle lens and a 12-megapixel telephoto lens.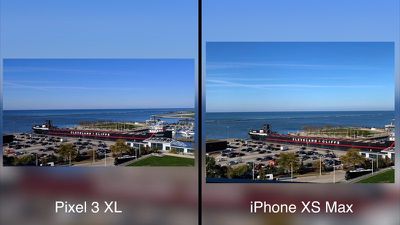 The two camera system allows the iPhone XS Max to do things like capture Portrait Mode images with an adjustable depth of field and a blurred background, but the Pixel 3 XL has much of the same functionality enabled through software.


Like the iPhone XS Max, the Pixel 3 XL features a Portrait Mode. With its newest devices, Apple introduced some improvements to Portrait Mode with the A12 Bionic chip, and that gave it the edge over the Pixel 3 XL in our image tests. The Pixel 3 XL won out when it came to edge detection in most cases, with less blurring in areas we didn't want blurred, but iPhone XS Max Portrait Mode images were sharper.


Google advertises a new "Super Res" zoom in the Pixel 3 XL, but the single-lens camera system can't compete with Apple's telephoto lens.
With the iPhone XS Max, Apple introduced a new Smart HDR feature that takes multiple images at different exposures and combines them for one ideal shot. Google's Pixel 3 XL has a similar HDR+ mode that does the same thing to eke out more detail in photos with a lot of variation in lighting.


In our testing, we preferred the Smart HDR on the iPhone because it was able to preserve more detail without blowing out bright areas like the sky, but the Pixel 3 XL was not far behind.
Google's Pixel 3 XL uses a Night Sight feature that's designed to create brighter, clearer photos than the iPhone XS Max can produce. Night Sight isn't available at launch, but will be coming to the Pixel phones later and could give the devices a serious edge over the XS Max.


In our low light photo tests, both performed well, but the Pixel 3 XL demonstrated more noise and grain than low-light photos taken with the iPhone XS Max. In Portrait Mode, though, the Pixel 3 XL outperformed the iPhone XS Max.


While the Pixel 3 XL has a single-lens rear camera, Google has implemented a two-camera system at the front of the device with two 8-megapixel cameras for taking selfies. The iPhone XS Max, meanwhile, has a single-lens 7-megapixel front-facing camera and TrueDepth camera system that allows it to capture the same Portrait Mode photos as the rear camera system.
Because Google is using two cameras, there are front-facing features not available on the iPhone XS Max, such as a wider-angle lens that captures 184 percent more of a scene to enable group selfies.


When it comes to front-facing camera systems, the Pixel 3 XL definitely beats the iPhone XS Max. Front-facing Portrait Mode photos look great on both devices, but the group selfie mode is something Apple can't compete with.
The camera systems in the iPhone XS Max and Google Pixel 3 XL both have their strengths and weaknesses, but when it comes down to it, both are so good that determining which one is better is a matter of preference.


Photos from the iPhone XS Max, for example, tend to be a bit more even in color than the overly cool or warm-toned photos coming from the Pixel 3 XL, which some people prefer and others don't. iPhone XS Max images also come out a bit darker due to the Smart HDR feature that preserves detail, which is another visual difference that may influence opinion towards one camera or the other.
Bottom line, though, both the iPhone XS Max and the Pixel 3 XL produce impressive images that are better than both the previous-generation iPhone X and the Pixel 2 smartphones, and both are closer than ever to overtaking more traditional handheld cameras.
You can see all of the full resolution photos that we took with the Pixel 3 XL and the iPhone XS Max in this Imgur album that we created. Do you prefer Pixel 3 XL photos or iPhone XS Max photos? Let us know in the comments.