Apple's Covent Garden Store in London to Reopen on October 26
Apple's flagship Covent Garden store in London is set to reopen on Friday, October 26 following a three month renovation period, Apple announced today in its Apple Store app.
Covent Garden is set to reopen on the same day that the colorful new iPhone XR debuts, and to celebrate the store's relaunch, Apple has designed a cheery reopening graphic.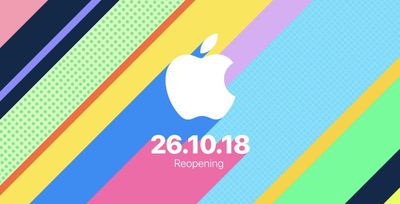 The Covent Garden store closed on June 27 to be overhauled with the new store design first introduced at the Union Square location in San Francisco back in 2016.
Since Apple revamped its San Francisco Apple Store layout with the Genius Grove for getting help, The Avenue for shopping, a Forum for viewing presentations, and an area for Today at Apple classes, the company has been expanding the design to new and existing retail stores across the world.
Covent Garden is the latest store to be updated, and its unveiling follows the recent re-opening of Apple's Palo Alto flagship store in California, which has been updated with a living wall of greenery, a large television screen at the back, redesigned accessory walls, new tables, and indoor trees, all signature features of the new store design.
When it opened back in 2010, Covent Garden was Apple's largest retail location in the world, and it has always been one of the best-known Apple stores due to its unique interior with tall arched windows, stone columns and archways, and vaulted ceiling, design features Apple will retain.

Apple's Covent Garden store in 2015


Apple retail locations that debut on device launch days often open early, so while the Apple Store app doesn't yet list a specific time when the doors will open at Covent Garden, customers should be able to get in right around 8:00 a.m. local time for iPhone XR purchases. Apple will provide additional information as the launch date approaches.