Apple Facing Shortage of 2014 and Mid 2015 5K iMac Displays, Offering Free Delayed Repairs or $600 Off a New Model
Apple has notified Genius Bars and Apple Authorized Service Providers that its inventory of displays for Late 2014 and Mid 2015 models of the 27-inch iMac with Retina 5K display is constrained until mid to late December, according to an internal service document obtained by MacRumors today.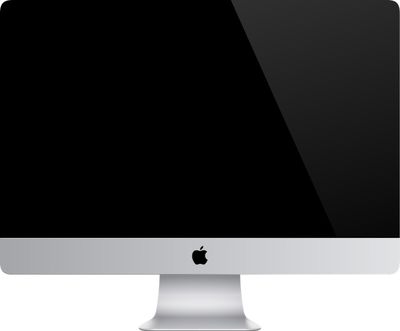 As a result, if a customer with one of those iMac models requires a display repair due to accidental damage, Apple has instructed its service providers to offer a free repair if the customer is willing to wait until mid to late December.
If a customer is unable to wait, Apple will offer a functionally equivalent 2017 model 27-inch iMac with Retina 5K display to be paid for by the customer, minus a $600 or local equivalent discount. The Late 2014 or Mid 2015 iMac must be returned to Apple — the customer will never get it back.
For example, if a customer takes a base model Late 2014 5K iMac with a damaged display to an Apple Store in the United States, and declines to wait until December for a repair, the Genius Bar is instructed to offer the customer a base model 2017 5K iMac for $1,199, down from its original price of $1,799.
Note that the 2017 models will be Customer Replacement Units, or CRUs, but it's unclear if they will be refurbished or brand new.
In order to qualify, the iMac must be out-of-warranty. If the iMac is still covered by AppleCare+ or Apple's standard one-year warranty, Genius Bars and Apple Authorized Service Providers are instructed to proceed with a standard repair. Note that only Late 2014 and Mid 2015 models are eligible — no others.
Unsurprisingly, Apple says any iMac with excessive or catastrophic damage as a result of reckless, abusive, or purposeful conduct is ineligible for a free repair. This includes any iMac that has been crushed or bent, or partially or fully submerged in liquid. This isn't a free 2014-to-2017 iMac upgrade program.
This procedure is to be followed by Apple Store and Apple Authorized Service Provider locations worldwide until display inventory is restored. Non-end users with two or more eligible iMacs with a damaged display are not eligible to claim a free repair to prevent resellers from abusing the offer.
All of this information comes from an internal Apple document obtained by MacRumors from multiple reliable sources, but we can't guarantee this procedure will be offered by all service providers. We also can't guarantee that all Apple employees or technicians will be aware of or acknowledge this temporary policy.
To initiate a repair, head to the Get Support page on Apple.com.