iPhone Storage is 'Absolutely the Most Profitable iPhone Feature' says Analyst
A new report out this morning by Bloomberg's Mark Gurman and Ian King takes a look into Apple's pricing strategy for the storage capacities on the iPhone XS and iPhone XS Max. Specifically, Bloomberg says that the biggest upsell for the iPhone XS and XS Max is the new 512GB storage option, which will help Apple make $241 more per iPhone than the 64GB option.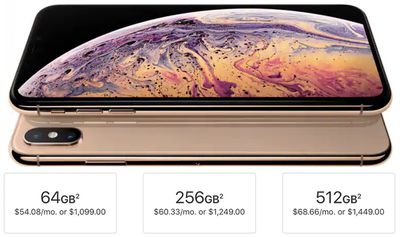 512GB is the highest storage capacity that Apple has yet to release on an iPhone, and the company charges customers a lot more for NAND storage chips than it pays suppliers. IHS Markit analyst Wayne Lam explains that storage costs Apple about 25 cents per gigabyte, and the company charges customers about 78 cents per gigabyte. Because of this, Lam says that storage "is absolutely the most profitable iPhone feature."
In research compiled by Bloomberg, the 64GB iPhone XS cost Apple $23.68 for the NAND storage specifically, the 256GB cost $66.24, and the 512GB cost $132.48. In terms of revenue, the 512GB storage option is estimated to make Apple $241 more per iPhone than the 64GB tier, an increase from $107 between the highest and lowest storage tiers in last year's iPhone X.
According to data from InSpectrum Tech, the market price of NAND flash memory is half of what it was a year ago, but Apple's storage tiers for the iPhone have not reflected these savings.

"Storage is one of their levers to create more revenue and is absolutely the most profitable iPhone feature," says Wayne Lam, an analyst at researcher IHS Markit Ltd. Adding more isn't much work for Apple, because it just means swapping a chip, he adds, "whereas when you increase the screen size, you have to completely re-engineer the phone."

The 78¢-per-gig charge hasn't budged since last year. Of course, Apple uses contracts to lock in the price of such components as Nand flash, so it may not be benefiting yet from recent price declines. So far, though, storage costs customers more on an iPhone than on, say, a Samsung Note 9. Samsung Electronics Co. charges 65¢ a gig to move from the 128GB Note 9 phone to the 512GB model.
With more storage, users can save more photos, videos, documents, music, movies, podcasts, books, and more on their iPhones, without having to worry about deleting old items for more space. Of course, Apple also offers iCloud storage at $0.99/month for 50GB, $2.99/month for 200GB, and $9.99/month for 2TB. This means that if a 512GB iPhone XS or XS Max user wants to back up most of the content on their device, they will need to opt for the $9.99/month option.
In terms of the prices for these new iPhones, which begin at $750 for the not-yet-released iPhone XR and increase to $1,449 for the 512GB iPhone XS Max, Apple CEO Tim Cook has said that the company is aiming to "serve everyone." In an interview with Nikkei, he explained that "if you provide a lot of innovation and a lot of value, there is a segment of people who are willing to pay for it," referring to the steeper prices of this year's iPhone XS and XS Max.