Tim Cook on iPhone Prices: 'We Want to Serve Everyone'
At an event in Cupertino yesterday, Apple announced three new iPhone models: the iPhone XS, iPhone XS Max, and iPhone XR. Prices for the iPhones start at $749 for the iPhone XR in 64GB, and increase to as much as $1,449 for the iPhone XS Max in 512GB, which represents Apple's most expensive iPhone to date.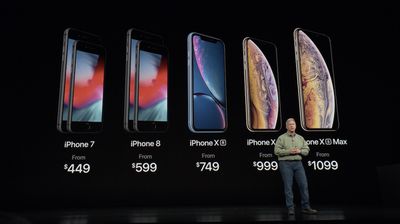 Commenting on this price range in an interview with Nikkei today, Apple CEO Tim Cook said, "We want to serve everyone." Apple introduced the iPhone XR at a cheaper price point so that customers who wanted the advantages of the iPhone X line -- Face ID, an edge-to-edge screen -- could find them on a lower-cost iPhone.

"We want to serve everyone," Cook said in an interview with Nikkei. "We understand that there is a wide range of what customers are looking for and a wide range of prices that people will pay."
Likewise, the iPhone XS Max represents Apple's biggest iPhone yet, and serves the customers who enjoyed the features of the 2017 iPhone X, but wished it came in a larger size.

"We always thought ... that if you provide a lot of innovation and a lot of value, there is a segment of people who are willing to pay for it," Cook said. "For us, it's a large enough group of people that we can make a reasonable business out of it."
Apple will also still sell the previous generation iPhone 7 and iPhone 8, at new lower prices. The iPhone 7 will now start at $449 in 32GB and increase to as much as $669 for the iPhone 7 Plus in 128GB. The iPhone 8 will start at $599 in 64GB and rise to $849 for the iPhone 8 Plus in 256GB.
Discussing the iPhone in general, Cook says that, "The role of the iPhone has become much larger in people's lives," and that will justify the price of the devices for many customers.
Those interested will be able to pre-order their iPhone XS or iPhone XS Max beginning tomorrow, September 14, and the smartphones will then launch on September 21 in over 30 countries and territories. The iPhone XR will go up for pre-order in about a month, on Friday, October 19, and then launch on October 26.
In addition to the iPhone, Apple yesterday also announced the Apple Watch Series 4 with a 30 percent larger display, thinner body, ECG reader, fall detection, and more. Similar to iPhone XS, Apple Watch Series 4 pre-orders will go up on September 14 and the smartwatch will launch on September 21.