Popular writing app Ulysses is being updated to coincide with the release of macOS Mojave and iOS 12, introducing support for new features in Apple's latest desktop and mobile operating systems.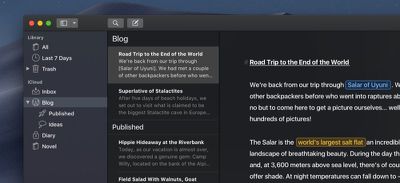 With macOS Mojave, Apple has introduced a new system-wide Dark Mode, which means many third-party apps will need updating with a similar color scheme. Since its initial release, a Dark Mode has been part of Ulysses, but the new update introduces a reworked and fine-tuned version to fit with the new system requirements.
Ulysses users will be able to have Dark or Light Mode auto-switch according to the system preferences, or continue to switch manually between the two from within the app. In addition, a new editor theme for Ulysses is available — D14 — with colors optimized for the new Dark Mode.
Elsewhere, Ulysses for Mac is getting a redesigned sheet list (the column displaying an overview of divided texts in a group) with bigger tiles and a lighter appearance for clarity and legibility. There's also a new share extension that lets users send links, texts and images from Safari and many other apps directly to Ulysses.


Meanwhile, in other improvements:
Command-clicking a link in the editor now opens the link in the default browser.
Four spaces are no longer replaced with tabs.
Comment blocks no longer add to paragraph count.
Double-pressing arrow keys in editor no longer switches between sheets.
Improved reliability when editing goals.
Over on iPad and iPhone, the Ulysses update brings support for the new Siri Shortcuts in iOS 12. Users can now assign voice commands to a number of Ulysses actions, including creating new sheets and opening existing sheets and groups. Siri will also make recommendations based on most-used Ulysses actions. All of Ulysses' actions are available in Apple's new Shortcuts app, ready for integrating into complex workflows.
The release of the new Ulysses versions is expected to match the release of Apple's new operating systems – in fact the mobile update is already rolling out for iOS 12, which Apple is launching today. The launch date for macOS Mojave is September 24, so expect Ulysses for Mac to be updated then or thereabouts.
Ulysses can be downloaded for free on the App Store and the Mac App Store. After a 14-day trial period, a subscription is required to unlock the app on all devices. A monthly subscription costs $4.99, while a yearly subscription is $39.99. Students can use Ulysses at a discounted price of $11.99 per six months. The discount is granted from within the app.