Ahead of next week's launch of iOS 12, watchOS 5, and tvOS 12, Apple has released an updated version of the Shortcuts app that will be available once iOS 12 is released.
The new Shortcuts beta is the golden master (GM) version of the app, which represents the final version of the app that will be provided to consumers.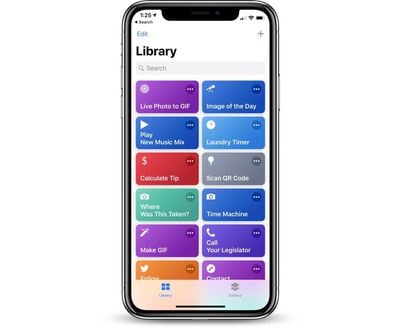 According to Apple's release notes, the new Shortcuts update introduces new actions that were not available during the beta testing period, with "Limited actions available in beta" listed as a resolved issue.
Over the course of the iOS 12 beta testing period, access to the Shortcuts iOS app via Testflight has been limited to developers. Public beta testers and general consumers will be able to experience the Shortcuts app for the first time next week.
For those unfamiliar with Shortcuts, it's an iOS 12 Siri feature designed to let you create multi-step shortcuts using first and third-party apps that can be activated by Siri voice command.
So, for example, you can create a shortcut to do something like turn on the thermostat at home using the Nest app, text your roommate that you're on the way with Messages, and open up the Maps app with directions home all with a single "I'm going home" Siri command.
Shortcuts are deeply customizable, with third-party apps able to expose a series of quick actions to Siri that can be incorporated into your Shortcuts recipes. Apps are expected to begin releasing updates with Siri Shortcuts support and other iOS 12 features starting next week.
Apple will release iOS 12, watchOS 5, and tvOS 12 to the public on Monday, September 17. The software updates will likely be released at 10:00 a.m. Pacific Time.