1Password, LastPass, Dashlane and More Updated With Support for iOS 12's AutoFill Password Feature
Multiple popular password management apps for iOS devices have been updated with support for a convenient new iOS 12 feature, Password AutoFill.
With Password AutoFill, logins and passwords stored in third-party password management apps will be available throughout the iOS 12 operating system right alongside iCloud Keychain, letting you log into websites, apps, and more much more quickly.
1Password, LastPass, Dashlane, Keeper, and Remembear all now support Password AutoFill features.

Setting Up Password AutoFill
Setting up a password management app to work with Password AutoFill will require you to go to Settings > Passwords & Accounts > AutoFill Passwords to toggle on the AutoFill Password option while also making sure your password management app of choice, such as 1Password, is selected.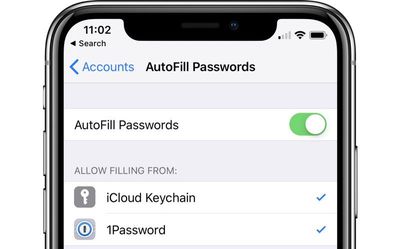 How it Works
The Password AutoFill feature lets a third-party app function just like iCloud Keychain, with your sensitive data protected but easily accessible within apps when you need your login information.
When you encounter a login field in an app or on the web, tapping in the entry field will display the stored username and password from your password management app if you've saved one right above the keyboard.
From there, you can tap the information to enter it into the app or website's login window, such as in the Spotify example below.


There are instances where your password management app does not have saved information entirely right or where you have multiple logins, like if you have multiple Twitter or Instagram accounts.
With Instagram, for example, when logging into the Instagram app, I see my two Instagram accounts listed in 1Password (my password app of choice) and I can tap either one to enter my login information.


For apps that your password management app cannot automatically identify, you will be able to access your entire password vault to find the login information that you need.

Where it Works
What's great about the Password AutoFill API is that it does not require developers to implement any kind of integration with your password management app to function, as was required in previous versions of iOS for this kind of functionality.
It works automatically in most apps and websites, with your password archive available no matter where you're logging in.

One-Time Passwords
When logging into apps and websites that require two-factor authentication, using a one-time password is also simplified.
If your two-factor authentication setup is linked to a password management app like 1Password, when you log into an app or website that requires two-factor authentication, your password is entered in the field and your one-time authentication password is automatically copied to the clipboard for easy pasting.


For apps that use your phone number for authentication purposes, iOS 12 introduces a feature that takes a code from an incoming iMessage and copies it to the clipboard, so two-factor authentication is simplified no matter the method.

Password AutoFill on Apple TV
Password AutoFill extends to the Apple TV using the continuity keyboard that permits the iPhone to be used to enter passwords and login information on the Apple TV.
For this to work, both the Apple TV and the iOS device need to be signed into the same iCloud account, and from there, the process is identical to using Password AutoFill on the iPhone.


In a text entry field, when prompted to use the iPhone to enter login information, passwords stored in a password management app and linked to Password AutoFill will be able to be entered on the Apple TV.
Note: tvOS 12 and iOS 12 are required for Password AutoFill to work on the Apple TV.
The Password AutoFill feature in 1Password, Dashlane, LastPass, and Keeper is available starting today so long as you've downloaded and installed iOS 12 and updated your apps.
Have you tried Password AutoFill? What do you think of the new feature? Let us know in the comments.