What to Expect at Apple's September 2018 Event: New iPhones, Apple Watch Series 4, AirPods, AirPower and More
On Wednesday, September 12, Apple will hold its annual iPhone-centric event at the Steve Jobs Theater on the Apple Park campus. This year's theme is "Gather Round," the line that was on the invitations sent out to members of the media in late August.
This year's event is shaping up to be quite exciting, with three new iPhones and refreshed Apple Watch Series 4 models on the horizon. Bigger displays seem to be the major draw this year, with Apple introducing both a 6.5-inch iPhone and larger-screened Apple Watch models that have smaller bezels.
2018 iPhone Lineup
Apple's 2018 iPhone lineup will consist of three devices: a 5.8-inch OLED device that's a follow up to the current iPhone X, a larger 6.5-inch OLED device that's a sort of "iPhone X Plus," and a 6.1-inch device with an LCD screen and a lower price tag that's meant to be Apple's more affordable smartphone.
All three of the iPhones will feature nearly edge-to-edge designs with a notch that houses a TrueDepth Camera System, putting an end to the Touch ID Home button in Apple's flagship iPhone lineup. While the three iPhones will have almost non-existent bezels like the iPhone X, the 6.1-inch iPhone's bezels may be slightly thicker due to the LCD display instead of the OLED display.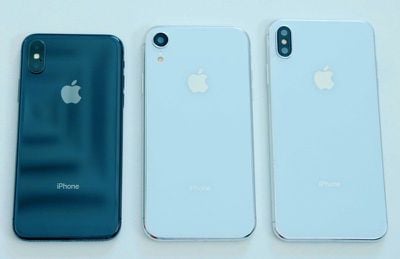 2018 iPhone dummy models
Internally, Apple employees are said to be referring to this year's iPhones as an "S" upgrade, a notation reserved for years when upgrades focus on internal components rather than design changes. "S" naming is appropriate given that all three iPhones are using an X-style design even though there are two new devices.
Apple is expected to use the 7-nanometer TSMC-manufactured A12 chip in all of the new iPhones for parity in processing power. The A12 should be faster and more efficient than the A11 for faster processing times, better graphics, and improved battery life. Early benchmarks suggest the A12 is 10 percent faster than the A11.
Leaked information from Apple suggests the 5.8-inch iPhone will be referred to as the "iPhone Xs" while the larger 6.5-inch iPhone could be called the "iPhone Xs Max," with Apple doing away with the "Plus" moniker that it has used since the release of the iPhone 6 and iPhone 6 Plus.
Such a naming scheme makes some sense because the "Plus" designation has traditionally referred to phones that have features non-Plus phones do not, but it does not appear that there are differentiating features between the two OLED iPhones with the exception of screen size, battery life, and price tag.
The iPhone Xs models, which will have resolutions of 2,688 x 1,242 (6.5") and 2,436 x 1,125 (5.8") according to rumors, will feature 12-megapixel dual-lens camera systems like the iPhone X, sturdy stainless steel frames, faster Intel LTE modems with support for 4X4 MIMO, 4GB RAM, and up to 512GB of storage space.
Improved battery technology may allow Apple to introduce a two-cell L-shaped 3,300 to 3,400 mAh battery in the 6.5-inch model and a 2,700 to 2,800 two-cell battery in the 5.8-inch iPhone.

Apple's iPhone Xs devices are expected to be available in silver and space gray like the iPhone X, but leaked images suggest Apple is also planning to introduce a new gold shade. Apple last year intended to introduce a gold iPhone X according to rumors, but was unable to do so due to manufacturing issues. Those problems have presumably been worked out this year, allowing for gold iPhone Xs models.


The 6.1-inch iPhone, which we don't know the name of, will look similar to the iPhone Xs models, but with lesser features that are meant to keep costs lower. In addition to a 1,792 x 828 LCD display instead of an OLED display, this device will feature an aluminum frame instead of a stainless steel frame, a single-lens 12-megapixel rear camera rather than a dual-lens rear camera, a 2,600 to 2,700 mAh single-cell battery, up to 256GB of storage space, an Intel LTE modem with 2X2 MIMO, and 3GB RAM.
We've heard some rumors suggesting the 6.1-inch iPhone's display won't support 3D Touch, but it's not clear if this is accurate. There has also been some speculation that Apple intends to use an aluminum rear shell rather than a glass rear shell, thereby not allowing wireless charging, but we believe all three iPhones will support wireless charging functionality.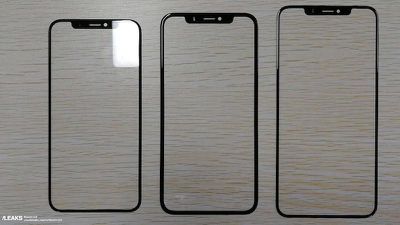 Glass panels for the 2018 iPhone models


Faster wireless charging is a possibility for at least one of the iPhones Apple is developing with rumors suggesting Apple is working on a wireless charging coil made from copper wire instead of the ferrite polymer composite used in the current iPhone lineup. A copper wire charging coil would allow for faster and more efficient wireless charging, perhaps bumping up the 7.5W limit in the iPhone 8, 8 Plus, and X.
Like the 2013 iPhone 5c, the 6.1-inch iPhone will supposedly come in a multitude of colors, with possibilities that include grey, white, blue, red, pink, black, and orange. The 6.1-inch iPhone will mark Apple's first real use of bright colors since the iPhone 5c.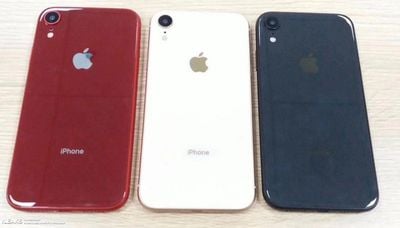 6.1-inch iPhone dummy models in red, blue, and white, three color possibilities that have been rumored. From

Slashleaks

.


The 6.5-inch iPhone Xs Max and the 6.1-inch iPhone may support dual-SIM dual-standby in some countries like China, allowing for two SIM cards to be used at once. It's not clear if this functionality will be coming to the United States, however. There has also been a rumor Apple could include eSIM functionality in some of the devices planned for 2018, so we'll have to wait for launch to get a full picture of the SIM situation.
Rumors suggest Apple's 6.1-inch "low cost" iPhone will be priced at $600 to $700, making it more affordable than the two OLED models that are in the works. The 5.8-inch iPhone Xs could be priced at $800 to $900, making it cheaper than the $999 iPhone X, while the 6.5-inch iPhone Xs Max could be priced at $900 to $1,000.

Chart outlining prospective 2018 iPhone features, via Ming-Chi Kuo


Some of the new iPhone models may ship with a Lightning to USB-C cable rather than a Lightning to USB-A cable plus a more powerful 18W power adapter, which would enable fast charging speeds right out of the box without the need to purchase additional equipment.
While all three iPhone models are set to make their debut at Apple's September 12 event, rumors suggest the 6.1-inch model may not be available for pre-order alongside the two OLED models due to production difficulties. It is unclear if this information is accurate, but we've heard several rumors suggesting production issues for the 6.1-inch iPhone.
For additional information on the three iPhones Apple will introduce next week, make sure to check out our iPhone Xs roundup.

Apple Watch Series 4
The Apple Watch Series 4 is expected to feature a display that's 15 percent larger than the display of the Apple Watch Series 3, a change implemented through a reduction in the size of the bezels of the device.
A larger display size will provide more room on the screen for apps and it will allow more space for watch faces. Apple is expected to introduce at least one new watch face with support for up to nine complications.

Leaked image of Apple Watch Series 4


While we don't know the resolution of the 38mm Apple Watch, data found within the beta suggests the 42mm version will feature a resolution of 384x480, up from 312x390 in the current 42mm Apple Watch models.


Aside from the larger display, a leaked marketing image suggests the Apple Watch Series 4 will look similar to the Series 3, with no major design changes. With no significant change in design, Apple Watch Series 4 models will continue to be compatible with existing Apple Watch bands.
The Apple Watch Series 4 could include a gold stainless steel color for the first time based on the leaked image, and there have been rumors that it could potentially use a haptic side button rather than a physical side button.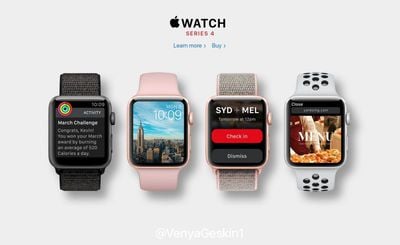 Other rumors have pointed towards a longer battery life enabled through a higher-capacity battery and improved health monitoring capabilities related to the heart rate sensor, but we haven't heard concrete details on what could be included.
Alongside the new Apple Watch, Apple is expected to introduce a selection of new bands as it does with each major event.
For more information on what we can expect to see in the Apple Watch Series 4, make sure to check out our Apple Watch roundup.

AirPower
Apple introduced the AirPower in September 2017 and promised to launch it in 2018, but development issues have delayed its release. Rumors have suggested Apple's updated timeline included a release in or before September, so we're hitting that deadline.
We expect to see Apple's AirPower become available for purchase alongside the new 2018 iPhones and Apple Watch models.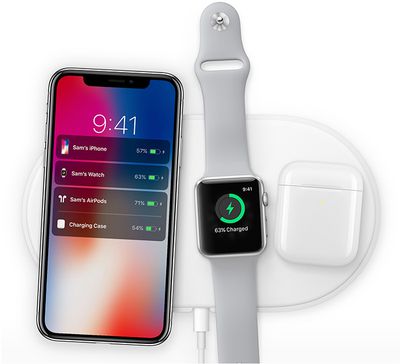 The AirPower is designed to charge the Apple Watch (Series 3 and 4), glass-backed iPhones, and AirPods all at the same time, with a wireless charging case required to enable wireless charging for the AirPods.

AirPods
With the AirPower, Apple is supposed to be introducing a new AirPods Charging Case that adds wireless charging to the earbuds, but because the AirPower has taken so long to launch, we're set to see updated AirPods with new features.
Rumors suggest that the AirPods will see a minor update this year adding an upgraded wireless chip that supports hands-free "Hey Siri" functionality. With "Hey Siri" support, AirPod owners will be able to activate Siri without needing to double tap on the AirPods with a finger.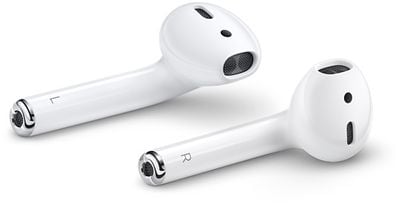 An upgraded set of AirPods will also likely ship with the aforementioned Charging Case with wireless charging capabilities, and Apple is also expected to sell that case on a standalone basis so customers who have already purchased AirPods can upgrade to it.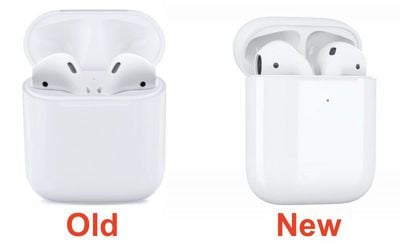 Existing AirPods Charging Case next to redesigned AirPods Charging Case with wireless charging capabilities


No other major changes are expected for the AirPods this year, but there have been some hints that Apple is working on a set of Apple-branded high-end over-ear headphones that could launch in late 2018 at the earliest, so we may see a mention of them. Rumors on a launch date have been mixed, though, so Apple may not be ready to debut these until 2019.
For more information on the AirPods, check out our AirPods roundup.

Software Updates
New versions of iOS, macOS, watchOS, and tvOS have been in beta testing since June, and Apple is likely to provide golden master versions of each of the updates following its September 12 event.
The golden master versions of iOS 12, macOS Mojave, watchOS 5, and tvOS 12 will represent the final version of the software that will be provided to device owners when the software launches.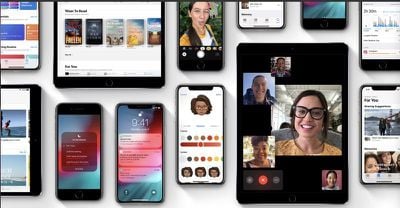 We expect to see Apple release iOS 12, watchOS 5, and tvOS 12 on Wednesday, September 19, two days ahead of the predicted launch of the 2018 iPhone models. Such a launch date would be in line with past software release timelines. We could also see macOS Mojave on that day, but historically, macOS release dates have varied somewhat.


Additional information on all of the new features included in Apple's fall 2018 software lineup can be found in our iOS 12, tvOS 12, watchOS 5, and macOS Mojave roundups.

Possibilities for September or October
Several additional updates are on the horizon for Apple's Mac and iPad lineups, but in past years when there have been a slew of fall updates to unveil, Apple has held two events: one in September focusing on iPhones and the Apple Watch and one in October to focus on Macs and iPads.
While it's possible Apple could unveil new Macs and iPads at its September event, we believe the company is going to wait until an October event simply due to time constraints and the sheer number of devices that are in the works for the fall.

iPad Pro
Apple is working on updated iPad Pro models that adopt an iPhone X-style design with slimmer bezels and no Home button, with the iPads instead set to gain a TrueDepth Camera System that will allow Face ID to be used for biometric authentication purposes.
While the iPhone X includes a notch for the TrueDepth Camera, leaked iPad Pro designs in the iOS 12 beta suggest the iPad Pro models will not have a notch, instead retaining slim top and bottom bezels. Apple is also not planning to use an OLED display for the iPad at this time due to cost and production issues.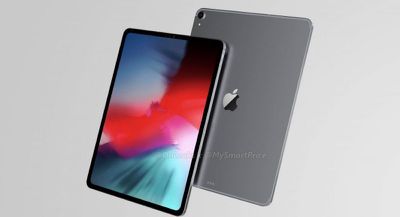 Renderings of 12.9-inch iPad Pro based on alleged CAD drawings


Rumors suggest the new iPad Pro models will be available in screen sizes that are approximately 11 and 12.9 inches, with Apple using chamfered edges that are similar in design to the iPhone SE. The antenna lines on the device may also be located at the top and bottom, similar to the iPhone 7.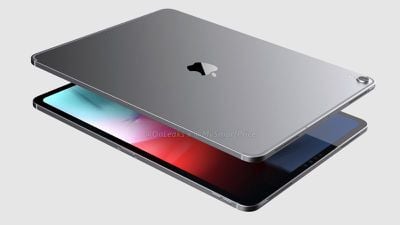 Renderings of 12.9-inch iPad Pro based on alleged CAD drawings


Renders based on leaked CAD drawings suggest the iPad Pro has a relocated Smart Connector that's been moved from the side of the device to the back of the device, but how this would functionally work remains in question, so it's not clear if the information is accurate.
We've also heard that the new iPad Pro models will not feature a headphone jack, with Apple opting to do away with the port as it did in the iPhone lineup beginning with the iPhone 7.
For more information on what to expect from upgraded 2018 iPad Pro models, check out our iPad Pro roundup.

Mac mini
Apple is said to be working on a refreshed version of the Mac mini that's focused on pro users. The upgraded device will include new storage and processor options, and because of its pro focus, it could be more expensive than previous Mac mini products.
There's not a lot of additional information available on the Mac mini, but a previous rumor suggested the higher-end version "won't be so mini anymore" hinting at least one configuration with a larger size to accommodate higher-end components.


Given that this is going to be a pro-focused machine, it's not clear what chips it will adopt, but Intel this year has announced 8th-generation processors appropriate for both desktop and notebook machines. Past Mac mini models have used the same chips as the 13-inch MacBook Pro, but Apple may be planning to opt for more powerful chips for a pro Mac mini model.
For everything we've heard on the Mac mini, check out our Mac mini roundup.

Low-Cost MacBook Air
Apple has a 13-inch MacBook Air replacement in the works, which has been the subject of rumors for more than a year now. It's been unclear whether Apple plans to position the machine in the MacBook Air family or the 12-inch MacBook family, but some concrete details about the upcoming notebook can be gleaned from everything we've heard.
Positioned as an entry-level low-cost machine in Apple's product lineup, the notebook will be 13 inches in size and it will feature a Retina display. It is said to be similar in design to the current 13-inch MacBook Air, but with slimmer bezels.


It's not entirely clear how Apple will distinguish this machine from the 12-inch MacBook if it's going to offer a Retina display, but if the design is similar to the current MacBook Air, the 12-inch MacBook will still be Apple's lightest machine, justifying its higher price tag.
Various pricing rumors have suggested that it could be available for anywhere from $799 to $1,200, but the most reliable source, Bloomberg, believes it will cost under $1,000.
Whiskey Lake chips appropriate for a MacBook Air-like machine were announced by Intel in August, and so Apple could potentially be planning to use these chips in the device.
For more on the mixed rumors we've been hearing about the 13-inch low-cost notebook, check out our MacBook Air roundup.

12-Inch MacBook
Regardless of whether the rumored lower-cost 13-inch notebook is a MacBook Air or a MacBook, Apple is still planning to maintain the 12-inch MacBook lineup and a refresh is in the works.
Upgraded 12-inch MacBooks are likely to feature Intel's 8th-generation Amber Lake Y-series processors, announced in August. These chips bring processor and battery improvements, so new MacBooks could offer both faster performance and longer battery life.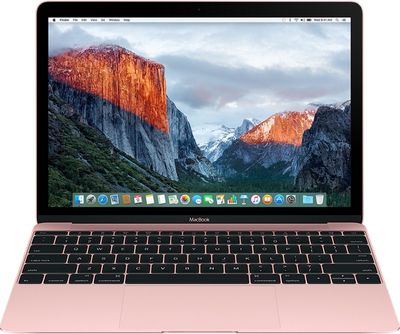 Aside from upgraded Intel chips, there's been little information on what else Apple might add to a refreshed MacBook lineup.
For more on the MacBook, check out our 12-inch MacBook roundup.

iMacs
We haven't heard any iMac rumors in recent months, but Apple refreshes its iMac lineup on a regular basis, so an upgrade is likely to be in the works.


We're expecting refreshed iMacs in 2018 that feature upgraded 8th-generation Intel processors, improved GPUs, and perhaps the adoption of the T2 chip that was introduced in the iMac Pro and has since been added to the MacBook Pro.
More details on the iMac can be found in our iMac roundup.

Conclusion
Apple's 2018 "Gather Round" event will see the introduction of a slew of new flagship products that will build on the success of the Apple Watch Series 3 and the iPhone X. We also likely have a major Mac and iPad-focused event to look forward to in October should Apple not introduce new Macs and iPads at its September event.
Following the debut of the new iPhones and Apple Watch models on September 12, we are expecting Apple to hold pre-orders on Friday, September 14. If Apple sticks to pre-order times from past years, we can expect orders to be accepted starting at 12:01 a.m. Pacific Time.
After a September 14 pre-order date, the new devices are likely to see an official launch date on Friday, September 21.
The event will kick off at 10:00 a.m. Pacific Time, with Apple planning to live stream the product unveiling on its event website and through the Events app on the Apple TV. For those unable to watch, MacRumors will have live coverage both here on MacRumors.com and on our MacRumorsLive Twitter account, along with continuing coverage throughout the rest of September.
What are you most looking forward to seeing Apple introduce this year? Let us know in the comments.