Proposed Tariffs Will Impact Apple Watch, AirPods, HomePod, Mac Mini and More
A proposed $200 billion tariff on Chinese goods would affect the Apple Watch, AirPods, HomePod, Beats headphones, AirPort routers, Apple Pencil, Magic Mouse and Magic Keyboard, MacBooks, Mac mini, and a selection of cables, chargers, and adapters, Apple said today in a letter sent to the U.S. government.
Apple's letter urges the Trump administration not to apply the tariffs that will affect Apple products and to find "other, more effective" solutions instead. According to the company, the U.S. will be the hardest hit by the proposed tariffs, leading to lower U.S. growth and competitiveness and higher prices for U.S. consumers.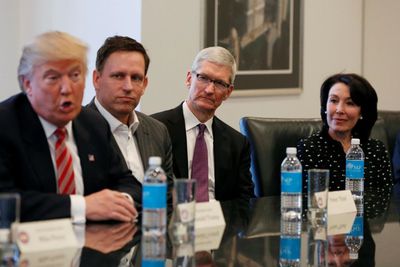 Apple CEO Tim Cook with Donald Trump at the Executive Tech Summit at Trump Tower in December 2016
The proposed tariff list covers a wide range of Apple products and the products used in our U.S. operations: Apple digital health and wireless connectivity products, including Apple Watch, Apple Pencil and Air Pods; Apple computing tools such as MacMini; Apple adapters, cables and chargers engineered for efficiency and safety; Apple-designed components and made-to-specification tooling for Apple's U.S. manufacturing and product repair facilities; specialty testing equipment for Apple's U.S. product development labs; and servers, hard drives and cables for Apple's U.S. data centers that support our global services such as the App Store.
According to Apple, the tariffs will increase the cost of its U.S. operations, divert resources, and disadvantage Apple compared to foreign competitors, leading to more expensive Apple products for customers.
Second, because all tariffs ultimately show up as a tax on U.S. consumers, they will increase the cost of Apple products that our customers have come to rely on in their daily lives. For example, the proposed tariffs cover Apple Watch, which has become the top-selling smart-watch in the U.S. and globally.

Since we introduced Apple Watch a few years ago, we have heard from users about how it has changed, and in some cases saved, their lives. Apple Watch is also being used in conjunction with American universities to help individuals to manage health conditions such as epilepsy and post-heart attack recovery.
Apple CEO Tim Cook said in July that Apple was evaluating the fourth tariff the United States plans to implement and would comment on its impact on Apple at a later date, which is what today's letter pertains to. Cook called the examination of the tariff "a tedious process" because of the need to consider not only revenue, but also purchases being made through other companies unrelated to revenue, such as data centers.
The United States has already put three sets of tariffs in place affecting steel, aluminum, and $50 billion worth of other goods from China, but none of these tariffs have impacted Apple products and devices.
When commenting on tariffs in July, Cook said that while Apple believes the trade agreements the U.S. has with other major economies are in need of modernization, tariffs are not the right approach. Cook said Apple is, however, "optimistic" the tariff issue will be sorted out, and that the company is hoping "calm heads prevail."
Apple shares dropped following the tariff news.
Note: Due to the political nature of the discussion regarding this topic, the discussion thread is located in our Politics, Religion, Social Issues forum. All forum members and site visitors are welcome to read and follow the thread, but posting is limited to forum members with at least 100 posts.