Pixelmator today updated its pro image editing software, Pixelmator Pro, to version 1.1.4 to add new effects, a new Auto Selective Color adjustment tool that's powered by Core ML, and more.
The Auto Selective Color feature allows selective color adjustments to be applied automatically to images to improve specific colors using machine learning.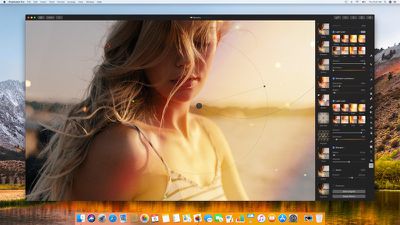 A new Light Leak effect adds a sunny, vintage feel to photos, while a Bokeh effect can add artistic camera blur. There's a new Spin Blur to create circular motion effects, and a Noise effect lets you add digital noise to photos.
Other new effects include Threshold, Mask to Alpha, Clouds, and other Tile and Distort effects pulled from the original Pixelmator app.
A long list of improvements have been made to existing tools. Auto White Balance and Auto Lightness, for example, better preserve skin tones and are 30 percent faster. The Color Adjustments and Effects submenus offer up Copy, Paste, Reset and Flatten Adjustment options, and there's a new keyboard shortcut (O) for Show Original when using various tools.
A full list of improvements and bug fixes are available in the Pixelmator Pro release notes.
In celebration of back to school, Pixelmator is discounting Pixelmator Pro to $29.99, a $30 discount off of the original $59.99 price tag. Pixelmator Pro can be downloaded from the Mac App Store. [Direct Link]