Samsung Rumored to Debut First Foldable Smartphone This Year
Samsung is still on track to unveil its first foldable smartphone later in 2018, Samsung Mobile CEO DJ Koh told CNBC.
According to Koh, it is "time to deliver" on a foldable device after Samsung research revealed that there is consumer interest in such a device.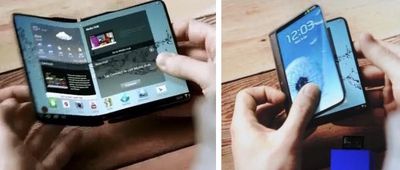 A smartphone concept with bendable display from Samsung


Samsung first announced its plans for a smartphone with a bendable display in September 2017, and at the time, Koh said that the device would be positioned as a Galaxy Note. Given that Samsung has already announced this year's Galaxy Note 9, it's likely the new foldable smartphone will feature its own branding and will be sold alongside the Galaxy Note and S lines.
Koh declined to share details on how a folding screen might work, but at IFA last week, he said that Samsung is trying to work out the details on differentiating it from a tablet design.
"You can use most of the uses ... on foldable status. But when you need to browse or see something, then you may need to unfold it. But even unfolded, what kind of benefit does that give compared to the tablet? If the unfolded experience is the same as the tablet, why would they (consumers) buy it?"

"So every device, every feature, every innovation should have a meaningful message to our end customer. So when the end customer uses it, (they think) 'wow, this is the reason Samsung made it'."
Rumors suggest that the device Samsung is working on does not include a hinge and will instead be one single screen that is able to fold in half.
The device is said to be about seven inches diagonally, roughly the size of a small tablet, but it can be folded in half like a wallet. When folded, the exterior of the phone is said to offer a small display bar on the front and cameras in the back, with an all-screen design when opened up.
Koh told
CNBC
that details on the device could be unveiled at this year's Samsung Developer Conference, set to be held in November in San Francisco, but he did not offer up details on when it might go on sale. He did, however, say that while the development process was "complicated," Samsung has "nearly concluded" it.
Previous information has suggested Samsung is actually aiming to launch the device early in 2019, targeting specific markets like gamers. If initial interest is strong, Samsung is said to be planning for a broader commercial debut during the second half of 2019.
Samsung is aiming to be the first company to come out with a foldable screen, beating other companies like Apple to the new design. Rumors have suggested that Apple is perhaps experimenting with an iPhone with a foldable display.
A 2017 rumor, for example, suggested Apple is working on an iPhone with a foldable display alongside LG Display, and a Merrill Lynch analyst recently predicted Apple will introduce a foldable iPhone in 2020.

LG's foldable display concept


There continues to be no concrete evidence that Apple is pursuing a foldable iPhone, but the company has filed for several patents related to foldable iPhone displays.