Apple Launches iPhone 8 Logic Board Repair Program
Apple today announced the launch of a new logic board repair program, which will see the company offering free repairs for iPhone 8 models that are affected by an issue that can cause restarts, freezing, and unresponsive devices.
According to Apple, a "very small percentage" of iPhone 8 devices have logic boards with a manufacturing defect that are eligible for a free repair.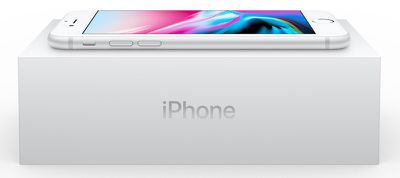 To check if you have an iPhone 8 that can be repaired under this new repair program, Apple has created a website where your serial number can be entered.
Apple says that affected units were sold between September 2017 and March 2018 in China, Hong Kong, India, Japan, Macau, New Zealand, and the U.S.
The problem does not affect the iPhone 8 Plus or other iPhone models, so it's just select iPhone 8 models that are eligible for a free fix.
Customers who do have an eligible device can make an appointment at an Apple retail store, contact an Apple Authorized Service Provider, or arrange for mail-in service through Apple Support.
Apple says that repairs may be restricted to the original country or region of purchase, and customers who are affected are recommended to back up their iPhone to iTunes or iCloud before seeking a repair.
An iPhone 8 that has damage that impairs the ability to complete the logic board repair, such as a cracked screen, will need to be fixed prior to Apple providing service.
The new iPhone 8 Logic Board Repair Program covers affected iPhone 8 devices for three years after the first retail sale of the unit.