Kuo: No Apple Pencil Support for 2018 iPhones, Upcoming 6.1-Inch Model to Be Slightly Delayed
Apple's upcoming 2018 iPhone models will not support the Apple Pencil because it does not offer a "good user experience," according to respected Apple analyst Ming-Chi Kuo who shared the information in a note sent out to investors.
Kuo believes that Apple will announce the three new iPhones expected in 2018 during the week of September 9, which is in line with other rumors that have pointed towards a September 12 unveil date, a September 14 pre-order date, and a September 21 launch date.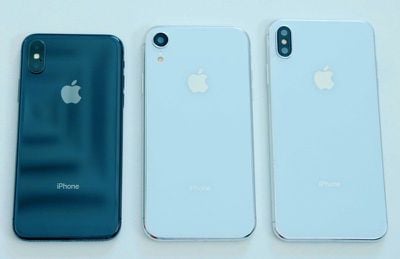 The 5.8 and 6.5-inch OLED iPhones will be available in September, says Kuo, but the 6.1-inch model, which has reportedly been plagued by production issues, will be available "slightly later due to its production schedule."
Kuo expects both the 6.1 and 6.5-inch iPhone models to offer both single and dual-SIM versions, with the dual-SIM models to be available in specific markets like China. Kuo's information is in line with details shared by Bloomberg this morning.


The 5.8-inch iPhone will not offer dual-SIM support, but Kuo says it could include an e-SIM as well as single-SIM functionality. Kuo is not certain, however, if the e-SIM will be activated.
According to a chart shared by Kuo listing prospective specs for the three new devices, the 6.5-inch iPhone is expected to include a 2-cell 3,300 to 3,400 mAh battery, while the 5.8-inch model will offer a 2-cell 2,700 to 2,800 mAh battery, and the 6.1-inch LCD model will offer a 1-cell 2,600 to 2,700 mAh battery.
Kuo believes the 6.5-inch iPhone will have a resolution of 2688 x 1242, with the 5.8-inch model continuing to offer a resolution of 2436 x 1125. The 6.1-inch model, meanwhile, is expected to have a resolution of 1792 x 828.
As past rumors have suggested, the two higher-end iPhones will offer dual-lens cameras, while the 6.1-inch model will offer a single lens camera. Both the OLED models will also offer 4GB RAM and a maximum of 512GB of storage, while the 6.1-inch model will cap out at 256GB of storage and 3GB RAM.
The 6.1-inch model will also be limited to a 2X2 MIMO modem while the two OLED devices will get faster 4x4 MIMO modems, but it will be available in a wider array of colors. Kuo has previously said that he expects the 6.1-inch iPhone to be available in red, blue, orange, gray, and white, while the 5.8 and 6.5-inch iPhone models will be available in three colors, presumably silver, space gray, and gold.
All three models, including the lower-cost 6.1-inch iPhone, are expected to include support for the new A12 chip, as the 6.1-inch iPhone is meant to be a followup to the iPhone 8. Apple's iPhone 8, iPhone 8 Plus, and iPhone X all use the A11 chip.
Kuo expects the new 6.1-inch LCD model to account for 50 to 55 percent and 65 to 70 percent of new iPhone models' total shipments in the second half of 2018 and the first half of 2019, respectively.
The new 6.1-inch iPhone will "increase replacement demands" compared to iPhone X and iPhone 8 because of its price tag, which Kuo expects to be between $600 and $699. As he has said in the past, Kuo believes Apple will price the 5.8-inch OLED iPhone at $800 to $899 and the 6.5-inch OLED iPhone at $900 to $999.