Apple's Shazam Acquisition Set to Gain European Approval
European Commission antitrust regulators are set to approve Apple's acquisition of music discovery service Shazam with no conditions, reports Reuters.
Apple announced its planned acquisition of Shazam in December, but the deal has yet to be completed due to an ongoing EU investigation.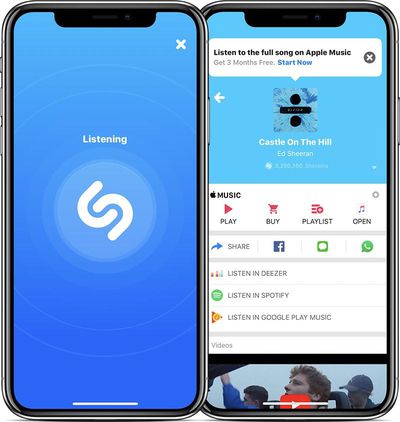 Regulators were worried that the merger between the two companies would provide Apple with a wealth of data that could allow it to target its competitors' customers, ultimately resulting in fewer music streaming options for European citizens.
There were also concerns that Apple would disallow Shazam from referring EU customers to Shazam's rivals, such as Spotify. At the current time, Shazam can be connected to either Apple Music or Spotify, allowing Shazamed songs to be opened in either service.
While European Commission spokesman Ricardo Cardoso declined to comment at this time, a final decision on the acquisition is expected on September 18. Once approved, Apple will be able to finalize the deal and complete the Shazam purchase.
Shazam, for those unfamiliar with the service, is a cross-platform app designed to identify music, TV shows, and more. It has been baked into Apple devices as part of Siri for several years now, and it's what powers Siri's ability to answer questions like "What song is this?" Shazam also offers apps for iOS devices, Android devices, Macs, and PCs.
When announcing the acquisition of Shazam, Apple said that it had "exciting plans in store," but declined to provide further information on how the Shazam service would be used.