Apple Acquiring Shazam and Says 'Exciting Plans' Are Ahead
Apple today announced it has agreed to acquire music recognition service Shazam, marking the company's highest-profile purchase since it acquired headphone maker Beats for $3 billion in May 2014.
Apple did not disclose financial terms this time, but when TechCrunch broke news of the acquisition plans last week, one of its sources said the deal could be worth around $400 million. Shazam was valued at $1 billion in January 2015.


Apple confirmed the acquisition plans in a statement provided to MacRumors and several other media outlets today:
We are thrilled that Shazam and its talented team will be joining Apple. Since the launch of the App Store, Shazam has consistently ranked as one of the most popular apps for iOS. Today, it's used by hundreds of millions of people around the world, across multiple platforms. Apple Music and Shazam are a natural fit, sharing a passion for music discovery and delivering great music experiences to our users. We have exciting plans in store, and we look forward to combining with Shazam upon approval of today's agreement.
Shazam issued the following statement:
We are excited to announce that Shazam has entered into an agreement to become part of Apple. Shazam is one of the highest rated apps in the world and loved by hundreds of millions of users and we can't imagine a better home for Shazam to enable us to continue innovating and delivering magic for our users.
Shazam is a popular service that can identify the name and lyrics of songs, music videos, TV shows, and more. The company has standalone iPhone, iPad, Mac, and Apple Watch apps, while the service is also built into Siri on iOS 8 and later.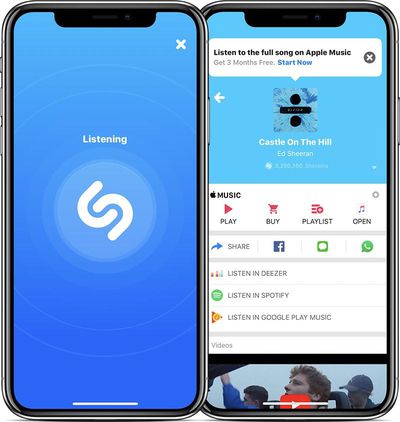 Shazam is integrated with Apple Music, allowing subscribers to identify a song and then tap to play it directly via the streaming music service. Shazam also has an iMessage app for identifying and sharing songs in the Messages app.
Shazam isn't just a big part of Apple. The service is built into Snapchat, allowing users to recognize, discover, and share music with friends. In the app, simply press and hold on the camera screen to identify a song with Shazam.
In September 2016, Shazam announced that its mobile apps had been downloaded more than 1 billion times since launching. Shazam released its original iPhone app when the App Store launched in 2008.
Shazam's machine learning algorithms used to identify audio clips, and its augmented reality feature that enables users to discover content based on pictures captured with its app, could be valuable technologies to Apple.
Apple said it is not disclosing further details at this time, so we'll have to wait and see exactly how it uses Shazam's technologies and talent.