European Regulators to Review if Apple Acquiring Shazam Will Significantly Hurt Competition
The European Commission today announced it has accepted requests from Austria, France, Iceland, Italy, Norway, Spain, and Sweden to assess Apple's proposed acquisition of Shazam. The agreement is still pending approval.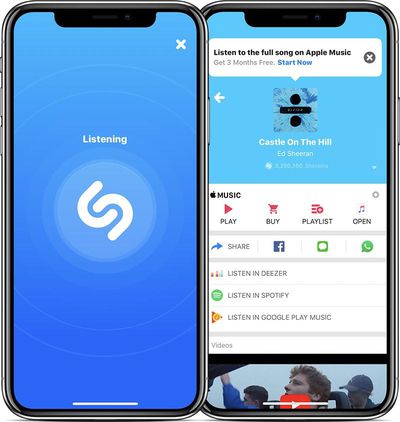 The regulatory body will consider whether the transaction may lead to a significant adverse effect on competition in Europe:
On the basis of the elements submitted by Austria and the countries joining the referral request, and without prejudice to the outcome of its full investigation, the Commission considers that the transaction may have a significant adverse effect on competition in the European Economic Area. The Commission has also concluded that it is the best placed authority to deal with the potential cross-border effects of the transaction.
The European Commission didn't specify how the deal could hurt competition, but Shazam does have partnerships with European companies like Spotify that could be affected by the acquisition. However, it's standard for major acquisitions to be subject to review, so the deal may be approved of without scrutiny.
Apple confirmed it plans to acquire Shazam in December in a statement provided to MacRumors and other publications:
We are thrilled that Shazam and its talented team will be joining Apple. Since the launch of the App Store, Shazam has consistently ranked as one of the most popular apps for iOS. Today, it's used by hundreds of millions of people around the world, across multiple platforms. Apple Music and Shazam are a natural fit, sharing a passion for music discovery and delivering great music experiences to our users. We have exciting plans in store, and we look forward to combining with Shazam upon approval of today's agreement.
Shazam is a popular service that can identify the name and lyrics of songs, music videos, TV shows, and more. It has apps across iPhone, iPad, Apple Watch, Mac, and iMessage, while the service has been built into Siri since iOS 8. The app is also integrated with streaming music services like Apple Music.
In September 2016, Shazam announced that its mobile apps had been downloaded more than one billion times since launching. Shazam's original iPhone app launched in 2008, and uses machine learning algorithms to identify audio clips. The app has since expanded into areas like augmented reality.