Apple Scores Rights to 'Losing Earth' Climate Change TV Project
Apple has purchased the rights to develop a project based on popular New York Times Magazine story "Losing Earth: The Decade We Almost Stopped Climate Change," reports The New York Times.
"Losing Earth," written by Nathaniel Rich, is also set to be the subject of an upcoming book. The magazine article covers the 10-year period from 1979 to 1989, a decade when "humanity settled the science of climate change and came surprisingly close to finding a solution" but ultimately failed to act due to various political forces.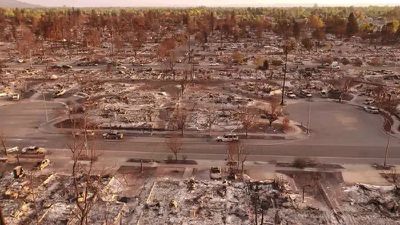 An image in "Losing Earth" taken after California wildfires last year
The "Losing Earth" article recounted how, from 1979 to 1989, a small group of American scientists, activists and politicians tried to save the world from the ravages of climate change before it was too late. The article was produced with the support of the Pulitzer Center and was based on more than 18 months of reporting and over 100 interviews.

"'Losing Earth' is an extremely important piece of journalism and we are thrilled it will get a wider audience," Jordan Cohen, a spokesman for The Times, said.
The New York Times said that at least a half-dozen bidders were aiming to acquire rights to the nonfiction project, which Apple plans to turn into a TV show.
The TV show will be produced by Anonymous Content, a company known for films that include "Spotlight," "The Revenant," "Collateral Beauty," and TV shows like "True Detective," "Mr. Robot," and "13 Reasons Why."
Rich will serve as an executive producer on the series alongside Steve Golin, founder of Anonymous Content.
"Losing Earth" is one of more than a dozen television shows Apple is working on, most of which are fiction-based. Apple plans to introduce the first of its television shows next year, perhaps as early as March, and several of them are in the casting stages. From The New York Times:
Apple has said it will start streaming its television offerings next year, when it will begin competing against Netflix, Amazon and Hulu in earnest.
The 30,000 word "Losing Earth" article can be read online on The New York Times website.
Note: Due to the political nature of the discussion regarding this topic, the discussion thread is located in our Politics, Religion, Social Issues forum. All forum members and site visitors are welcome to read and follow the thread, but posting is limited to forum members with at least 100 posts.