Apple Pay Cash is the highest-rated mobile peer-to-peer payments service on the market, according to a review by Consumer Reports.
In the first comparison of its kind, the Consumer Reports publication looked at the relative pros and cons of Apple Pay Cash, Zelle, Square Cash, Venmo and Facebook Messenger P2P payments. Google Pay's new money-sending feature wasn't included in the group test, however.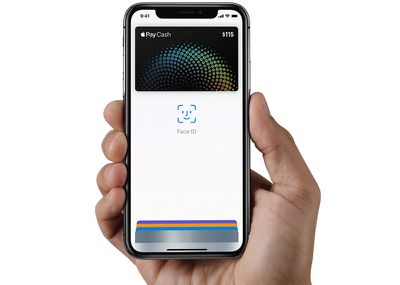 The five services were rated worse or better in terms of payment authentication, data security, data privacy, customer support, and broad access (use not limited to those with a bank account or particular mobile device).
All five services were rated good enough to use, but Apple Pay Cash came out the winner with a higher overall score, mainly because of its stronger privacy and security measures.

Apple Pay was the only service that got top marks from CR for data privacy, because its policies state that it limits the information it collects and shares on users and their transactions. It doesn't store credit card or debit card numbers, and it states in the terms and conditions that it doesn't sell users' personal information to third parties, CR found.
The requirement of later-generation Apple hardware and software was classed as the only major drawback of Apple Pay Cash, as per the "broad access" category described above.



Venmo, Facebook Messenger, and Square Cash all rated above average in most categories barring privacy. Zelle was downrated for poor clarity in its data policies, and failed to offer a way to confirm payments in its mobile app, although the company said the feature would be included by late October.
After a brief delay, Apple Pay Cash arrived on iOS devices in December 2017, although it's currently only available to users in the United States.