Google Releases Android 9 Pie as Previous Oreo Release is Installed on Just 12% of Devices
Google's latest Android operating system update, Android 9 Pie, was officially released to customers today following a beta testing period that started earlier this year.
Android Pie introduces a new gesture-based system interface that's similar to the interface of the iPhone X, with iPhone-like swipes for navigating through the operating system. We went hands-on with Android Pie earlier this year when it was in a beta testing phase.
The new update also introduces the Android Dashboard, designed to tell you how much time you're spending on your device, which is similar to Apple's own Screen Time feature. A new Do Not Disturb option called "Shush" silences Android devices when placed facedown, and a Wind Down option lets Android users select a specific bedtime to turn the interface gray to discourage smartphone usage at night.
Android Pie also includes an Adaptive Battery feature that maximizes battery power by prioritizing the apps you're most likely to use next, App Actions for predicting what you'll want to do next (much like Siri Suggestions), and Slices, a feature that brings up information from your favorite apps right in search, is coming in the future.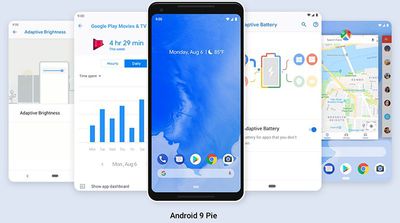 Like all new versions of Android, Android Pie is available for a limited number of smartphones at its launch because Android-based smartphones use customized versions of the Android operating system, and each smartphone manufacturer needs to make the new software available to its customers.
Android Pie is available to Pixel phones today, with the update set to roll out to recent devices from manufacturers that include Sony Mobile, Xiaomi, Oppo, Vivo, OnePlus, and Essential later this year.
The majority of Android devices are not likely to ever see the Android Pie upgrade given Android smartphone fragmentation. The previous release, Android 8 Oreo, is installed on just 12 percent of Android devices as of July 23, 2018, despite the fact that it was released in August 2017.


Most Android smartphones continue to use Android Nougat, Marshmallow, and Lollipop, updates that came out in 2016, 2015, and 2014, respectively.
Comparatively, Apple's most recent operating system, iOS 11, was installed on 81 percent of devices as of May 31, 2018. 14 percent of devices use iOS 10, released in 2016, and just five percent of devices use an earlier version of iOS.


Apple is able to control the operating system on all of its devices which allows the company to distribute bug fixes, new features, and more to customers much more quickly.
When iOS 11 was launched, 25 percent of customers had downloaded it after just one week, and iOS 12, with the wealth of features that it brings like Screen Time and Siri Shortcuts, could see even faster adoption when it's released alongside new iPhones this September.